This post may contain affiliate links. Please read my disclosure policy for more info.
7 effective and powerful financial breakthrough prayer points (with scriptures) thoughtfully written to help you with your financial breakthrough prayer points. Declare them today!
Money is an integral part of modern day society.
In order to survive, conduct businesses, and enjoy many of our societies amenities, finances are required. 
Yet so much of the world is in debt. Take America for example. 
Recent reports have shown that consumer debt in America is approaching nearly $14 trillion just after Q2 of 2019 (SOURCE).
This includes the credit card debt thrashing through the $1 trillion mark.
On the other hand, I understand that debt doesn't necessarily mean it's a bad idea.
Many times, people will go into debt to finance a car, home, or even start a business.
Sometimes, debt can be a necessary step in order to gain greater financial freedom later on.
For example, one may strategically invest in their college education in order to find a quality job that will reap financial blessings. 
But what if you are in a crisis or know that you are headed that way because there is too much debt or not enough resources?
Just in June 2020, the nation-wide unemployment rate was at 11.1% due to the Covid-19 pandemic (SOURCE).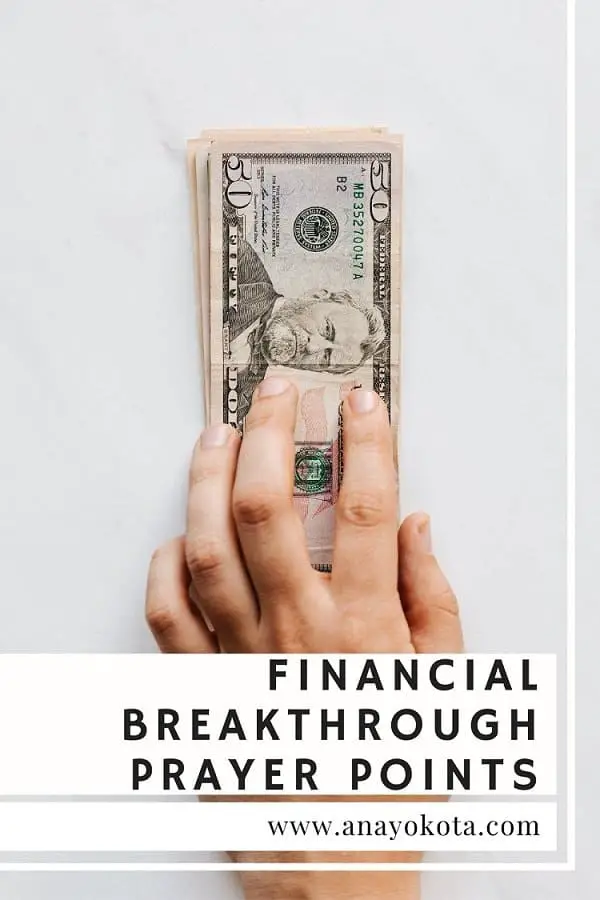 Financial burdens can truly destroy plans by perpetuating a never ending, self-defeating cycle of living paycheck to paycheck.
How do you navigate around a situation you cannot control even if you did your best to make money? 
When finances appear bleak and feel hopeless, my answer to you is prayer. Financial breakthrough prayer points to be specific.
In the bible, it says that nothing is impossible with God when we trust Him (Philippians 4:13). Prayer is key. 
Prayer is an amazing opportunity we all have to communicate with God. It is a direct access point to declare a prayer for immediate financial blessing.
Through your prayers against financial blockages, declare God's favor upon your life.
Declare protection so that God will open doors that no man can open and close doors that no man can close (Isaiah 22:22).
You can learn more about the fundamentals of prayer in my post, Prayer Points. 
The Lord also calls us to give our tithes and offerings to the church. 
Luke 6:38 English Standard Version
give, and it will be given to you. Good measure, pressed down, shaken together, running over, will be put into your lap.
For with the measure you use it will be measured back to you.
It is through our tithe and offering that God will open the storehouses of Heaven on us. 
For more reasons than one, be it for yourself or for someone you know, financial breakthrough prayer points can help bless your finances and prayer life. 
The following are financial breakthrough prayer points with bible verses about how to pray. 
PRAYER FOR DEBT CANCELLATION AND FINANCIAL BREAKTHROUGH
Prayer 1
Dear Heavenly Father, I ask for forgiveness for the poor financial choices I've made.
I gave only when I had excess not when it was my first fruits.
I was fearful and insecure about how I would be able to provide for myself and my family.
I repent of my sins and ask for Your provision in the mighty name of Jesus.
I pray for debt cancellation and financial breakthrough to come upon my finances.
Please give me the tools to strategically make lifestyle changes financially.
Please help me steward what You've given me. Please use this situation as a powerful testimony of Your provision and mercy.
I ask for a financial miracle. In the mighty name of Jesus I pray, Amen. 
Proverbs 3:9-10 Amplified Bible
Honor the Lord with your wealth
And with the first fruits of all your crops (income);
Then your barns will be abundantly filled
And your vats will overflow with new wine.
Prayer 2
Dear Christ Jesus, I come to You with my financial problems. The bible says that nothing is impossible in Christ Jesus.
I pray for financial breakthrough over my present and over my future.
I declare miracle prayers for money to help me with my debt.
Please help me see Your heart and know Your ways so that I may receive a total recovery with my debt.
I declare that You are more than enough.
Through this prayer for prosperity and financial release, I also ask that You will bless me and enlarge my territory to be a blessing to others.
I pray all these things in Your wonderful name, Amen. 
1 Chronicles 4:10 English Standard Version
Jabez called upon the God of Israel, saying, "Oh that you would bless me and enlarge my border, and that your hand might be with me, and that you would keep me from harm so that it might not bring me pain!" And God granted what he asked.
MIDNIGHT PRAYER POINTS FOR FINANCIAL BREAKTHROUGH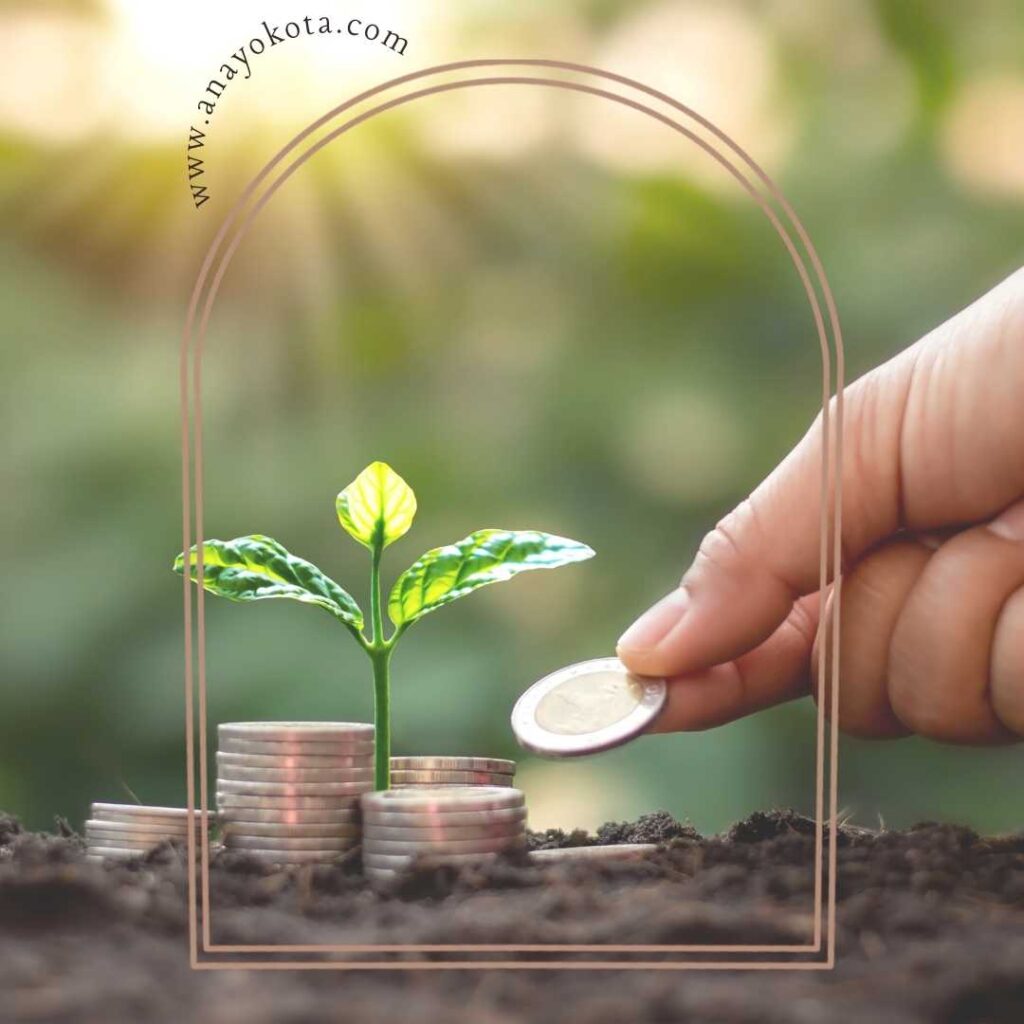 Holy Spirit, just as Paul and Silas prayed and worshiped at an hour where it was most weary, I come to You to declare these midnight prayer points.
I declare Your provision over my finances just as You've provided every element in my life.
I declare Your favor upon my finances with checks in the mail, debts paid off, and sales increasing.
I pray all these midnight prayer points for breakthrough in the powerful name of Jesus Christ, Amen.
Acts 16:25-26 English Standard Version
The Philippian Jailer Converted
About midnight Paul and Silas were praying and singing hymns to God, and the prisoners were listening to them, and suddenly there was a great earthquake, so that the foundations of the prison were shaken.
And immediately all the doors were opened, and everyone's bonds were unfastened.
PRAYER POINTS FOR BUSINESS BREAKTHROUGH
Lord Jesus, thank You for giving me the blessing to be a part of this business.
I pray that Your living word will always be at the forefront of my decisions.
Please give me wisdom to make strategic choices to bring financial business breakthrough.
I thank You for the promises upon our business. I declare Your prosperity and success.
I pray these things in the loving name of Jesus, Amen.
Joshua 1:8 Amplified Bible
This Book of the Law shall not depart from your mouth, but you shall read [and meditate on] it day and night, so that you may be careful to do [everything] in accordance with all that is written in it;
for then you will make your way prosperous, and then you will be successful.
PRAYER AND FASTING FOR FINANCIAL BREAKTHROUGH
Dear Lord Jesus, please give me the strength to persevere during this time.
I ask that You will help me focus on you. I worship You and cast all my cares upon You.
I declare for financial breakthrough in ways that no one else can provide.
I trust you, Father. Please help me to stay generous and kind even when I am in need.
I pray these declarations in Jesus name, Amen. 
Matthew 6:16-18 New Living Translation
"And when you fast, don't make it obvious, as the hypocrites do, for they try to look miserable and disheveled so people will admire them for their fasting.
I tell you the truth, that is the only reward they will ever get. But when you fast, comb your hair and wash your face.
Then no one will notice that you are fasting, except your Father, who knows what you do in private.
And your Father, who sees everything, will reward you.
SPIRITUAL WARFARE PRAYERS FOR FINANCES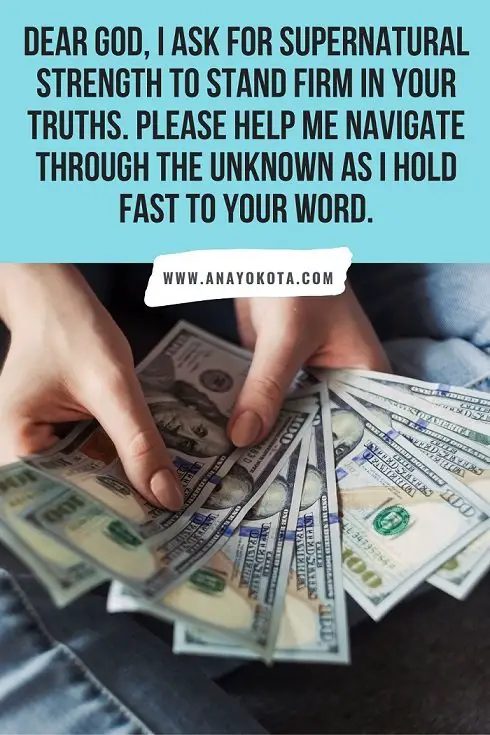 Dear God, I ask for supernatural strength to stand firm in Your truths.
Please help me navigate through the unknown as I hold fast to Your word.
Holy Spirit, I declare Your protection over my life – over my money. Your truth gives me discernment so that I will not be manipulated by the enemy's lies.
I find refuge in You and will choose to worship You.
In Your almighty name I pray, Amen. 
Ephesians 6:10-12 New Living Translation
The Whole Armor of God
A final word: Be strong in the Lord and in his mighty power.
Put on all of God's armor so that you will be able to stand firm against all strategies of the devil.
For we are not fighting against flesh-and-blood enemies, but against evil rulers and authorities of the unseen world, against mighty powers in this dark world, and against evil spirits in the heavenly places.
PSALMS FOR MONEY BLESSINGS
Dear loving Jesus, I praise and worship You for everything You've done for me. You are my daily bread and my hero.
I praise You in the midst of every situation for You are king over my life.
I declare my trust and hope in You.
I pray for an increase and great blessing over my finances.
In the name of Jesus I pray, Amen.
Psalm 68:19 New International Version
Praise be to the Lord, to God our Savior,
    who daily bears our burdens.
Psalm 145:16 English Standard Version
You open your hand;
    you satisfy the desire of every living thing.
Psalm 115:14 English Standard Version
May the Lord give you increase,
    you and your children!
I pray that God will give you financial wisdom in all your future endeavors.
One of my favorite declarations is from Bethel Church's offering readings.
This has brought me great encouragement whenever I gave my tithe and offerings. 
Financial breakthrough prayer points doesn't have to stop here!
Many times our financial prayers can be connected to our work prayers.
Here is a post dedicated to Prayers Before Work as well as Prayers At Work.
What are some ways you declare financial breakthrough prayer points?
Please share them below in the comment section.
God bless!