This post may contain affiliate links. Please read my disclosure policy for more info.
Invite the power of prayer before work to get you spiritually and mentally started for the day.
Prayer is not just for meals, healing, and church services.
Prayer before work is a powerful way to protect your heart and enter in His presence before you do anything else throughout the day.
Prayer is also a beautiful way to connect with God and allow quality time to hear His truths over your life.  
Allow me to share some staggering statistics. 
Just in the US, there are over 157 million people in the American workforce (SOURCE). 
Of the 157 million people, the average person spends over 90,000 hours at work in their lifetime (SOURCE) and a whopping 80% of Americans are completely dissatisfied with their jobs (SOURCE). 
It is staggering how stress and work have impacted not just The States, but all around the world.
For example, Japan reports hundreds of workers that commit suicide or die at work due to overworking.
In Japan, they call this torment "karoshi," or literally working yourself to death (SOURCE). 
All this to say, work doesn't have to be a time consuming and tormenting place. 
Work is part of our lives. For most, it is an essential way of life in order to survive. 
So, why not make it a place of worship by inviting God before you enter your workplace?
Equip yourselves by declaring His truths over your life in the quite place of prayer.
Prayer has completely changed my life and the way I view worship at work. 
Through your actions you have the opportunity to worship God by honoring and loving the people you work with (such as bosses, colleagues, and subordinates). 
You have the opportunity to bless your day, the people that you meet, and your connection with God.
If you want more detailed prayers for specific job situations, join the Ana Yokota family and gain access to a detailed list of prayers first before anyone else!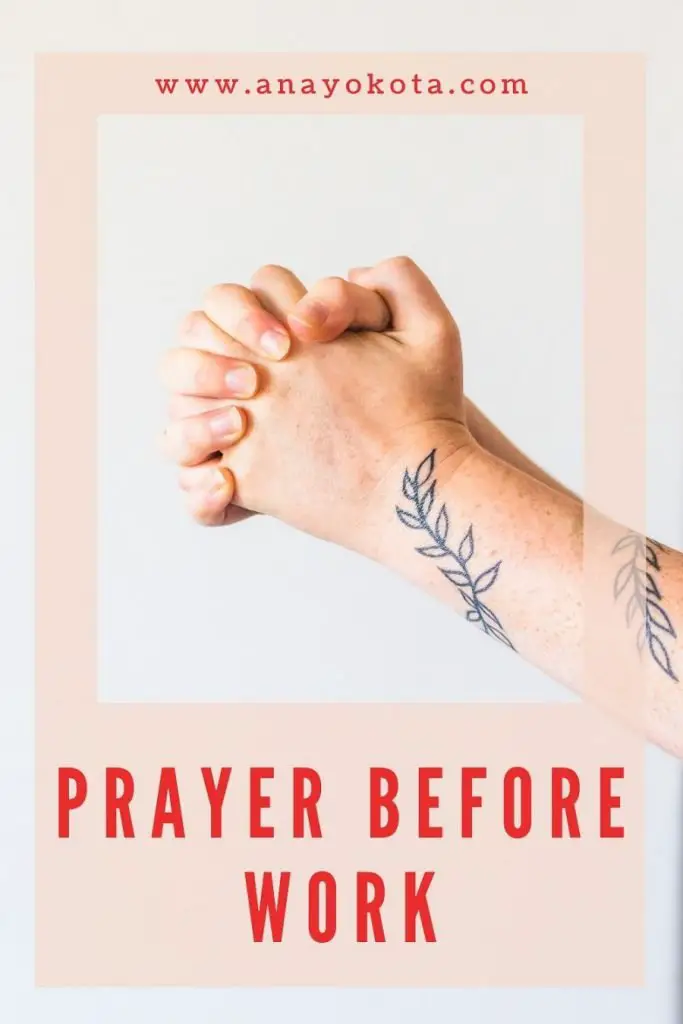 PRAYERS BEFORE WORK
Daily Prayer Before Work
Dear Lord, thank You for giving me rest and allowing me to begin my day by praising You. You are so faithful and good.
Thank You for the job that I have and being able to provide for my family.
I pray that Your presence will follow me throughout the day as I go to work.
Please give me clarity and wisdom to make strategic choices that help bring my work success.
I pray that I will have the courage and strength to work honorably.
Please help me to do my best and stay faithful.
In Jesus' beautiful name I pray, Amen. 
Colossians 3:23 Amplified Bible Whatever you do [whatever your task may be], work from the soul [that is, put in your very best effort], as [something done] for the Lord and not for men,
Prayer Before Work Meeting
Heavenly Father, I trust You and choose to obey you in all the things I do.
Before entering this meeting, I ask for Your peace to help me successfully participate and contribute to my team.
Please give me grace to conduct this meeting with excellence.
I thank You for always being with me and showing me Your great love.
I claim Your grace and peace in the name of Jesus I pray, Amen. 
Philippians 4:7 New Living Translation
Then you will experience God's peace, which exceeds anything we can understand.
His peace will guard your hearts and minds as you live in Christ Jesus.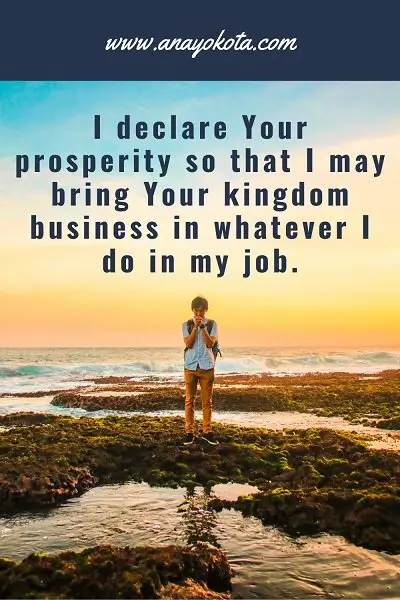 Prayer For Work Success
Papa God, thank You for your provision and constant willingness to bless me.
I ask that You will help me to stay away from temptations and not be lazy in my work responsibilities.
Please help me not only to work hard but also to work smarter.
I declare Your prosperity so that I may bring Your kingdom business in whatever I do in my job.
In Your mighty name I pray, Amen.
Proverbs 13:4 New Living Translation Lazy people want much but get little, but those who work hard will prosper.
Prayer For Work Colleagues 
Dear Lord Jesus, I pray that You will use me to be a beacon of hope to those around me at work.
Please help me to work with class and grace as a model of good works reflecting integrity, dignity, and compassion.
May I be a safe place for my coworkers to trust and work as a strong team.
Please bless my work colleagues in their mental and physical health.
May I continue to shine Your light so that they may witness Your goodness.
In Your great name I pray, Amen. 
Titus 2:7-8 English Standard Version
Show yourself in all respects to be a model of good works, and in your teaching show integrity, dignity, and sound speech that cannot be condemned, so that an opponent may be put to shame, having nothing evil to say about us.
Prayer For Favor At Work
Dear Father God, I declare favor at my workplace.
Please fill me with Your creativity and inspiration as I continue my responsibilities at work.
Please use me to build teamwork and healthy camaraderie within my superiors, colleagues and subordinates.
I ask that you will bless me with wisdom not only in my words but also in my actions.
I pray for protection over my mind, relationships, and heart from any work of the enemy that may try to bring me down.
Thank You for loving me. In Your loving name I pray, Amen. 
Isaiah 58:11 Amplified Bible
"And the Lord will continually guide you,
And satisfy your soul in scorched and dry places,
And give strength to your bones;
And you will be like a watered garden,
And like a spring of water whose waters do not fail.
PRAYERS AFTER WORK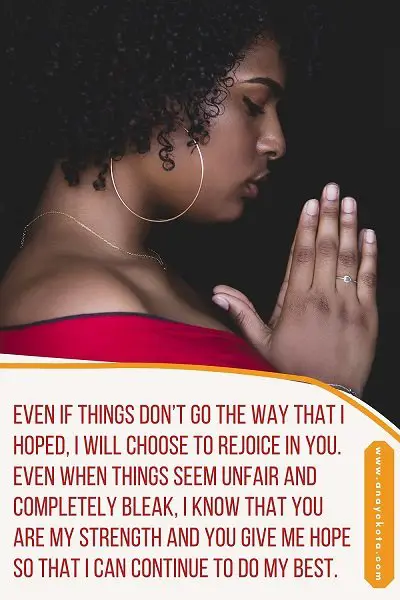 Prayers After A Hard Day At Work
Heavenly Father, I choose to worship You because You are the God of my salvation.
Even if things don't go the way that I hoped, I will choose to rejoice in You.
Even when things seem unfair and completely bleak, I know that You are my strength and You give me hope so that I can continue to do my best.
I pray for courage and focus so that the enemy cannot distract me to anger, insecurities, or fear.
I declare Your truths and claim your promises over my life.
I ask for supernatural grace to be able to navigate through this hard situation. And I declare Your promises over my life.
In You precious name I pray, Amen. 
Habakkuk 3:17-19 New International Version
Though the fig tree does not bud
    and there are no grapes on the vines,
though the olive crop fails
    and the fields produce no food,
though there are no sheep in the pen
    and no cattle in the stalls,
yet I will rejoice in the Lord,
    I will be joyful in God my Savior.
The Sovereign Lord is my strength;
    he makes my feet like the feet of a deer,
    he enables me to tread on the heights.
For the director of music. On my stringed instruments.
Prayers After A Good Day At Work
Father in Heaven, thank You for loving me so much.
You have such a beautiful plan for my life and bless me beyond what I can think or imagine.
Thank you for Your favor at my workplace. I praise and worship You not just because of the great day at work but also because You are so good all the time.
Thank You for answering prayers and fulfilling promises. I love You and give You glory.
In Your glorious name I pray, Amen
Jeremiah 29:11 Amplified Bible For I know the plans and thoughts that I have for you,' says the Lord, 'plans for peace and well-being and not for disaster, to give you a future and a hope.
Ending Thoughts on Prayer Before Work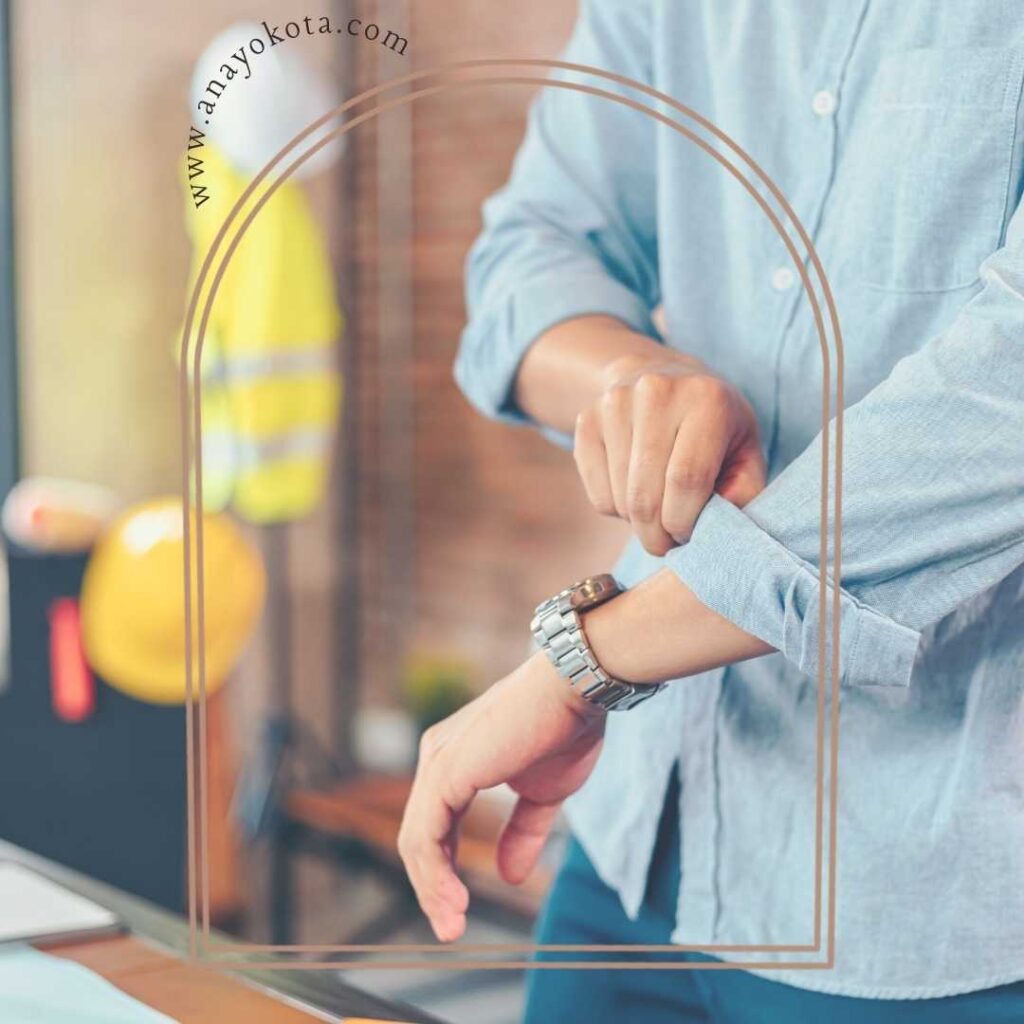 Let the power of prayer be part of your daily lifestyle.
Want more prayers specific to different job positions such as a lawyer, stay-at-home-mom, or even a student?
Subscribe and be the first to have access to free pdf's and more!
Want more prayer points? Learn more about Prayer Points for your marriage and family. 
Is there a special prayer you pray before working? Please share them with us in the comment section below!