15 POWERFUL AND STRONG BIBLICAL PRAYER POINTS FOR YOU
This post may contain affiliate links. Please read my disclosure policy for more info.
May these 15 prayer points bring prayers for breakthrough, a prayer for favor, and many other prayer topics for your daily walk with God. 
It doesn't matter if you are new or experienced in prayer points. The power of prayer is such a life giving wonder and a safe haven during our best and worst times. 
Prayer is a conversation with God. My favorite analogy on prayer to God is when we have a conversation with a friend venting, celebrating, or just needing to be heard. Much like these conversations with a friend, Jesus is our friend who listens when we speak to Him. 
I am fascinated by the plethora of resources on the theological studies of prayer topics. In short, there are many types of prayer. Melissa Tumino takes us on a deeper dive as to the 9 Types Of Prayer In The Bible explaining the biblical meaning behind prayers. 
It's never too late to start praying using prayer points.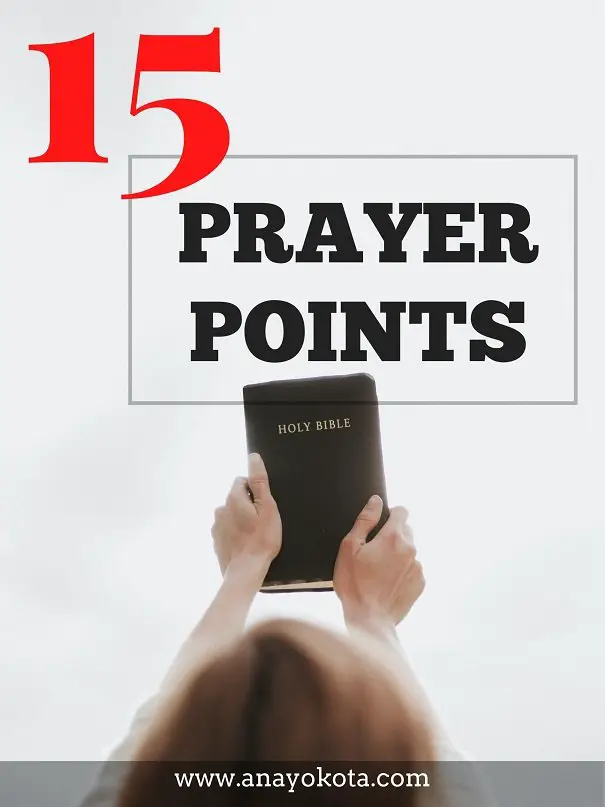 You may wonder, "Why do we pray?"
We pray because in the Bible, God told us to pray. 
Prayer gives us hope — hope for comfort, provision, love, peace, and grace. When we are praying to the Father, we are also choosing to trust in His will for our circumstances. 
All you need for effective prayer points is to simply have faith and the willingness to seek God. Jeremiah 29:12 tells us that when we pray to God, He will listen to us.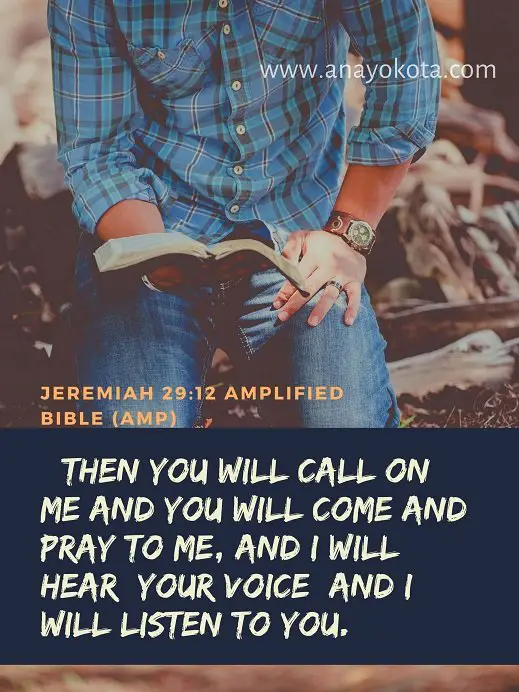 Jeremiah 29:12 Amplified Bible (AMP) Then you will call on Me and you will come and pray to Me, and I will hear [your voice] and I will listen to you.
Have you ever thought that your situation is just too small or too big for God to handle? 
I'm here to tell you that this is simply not true. Nothing is too small nor too big for God to handle. In Philippians 4:6, the bible tells us that we are to share not only the most important things to God, but everything. Every circumstance, every prayer, He wants to hear them all. Why? Because He loves you; beyond your wildest dreams, God loves you. 
Philippians 4:6 Amplified Bible (AMP) Do not be anxious or worried about anything, but in everything [every circumstance and situation] by prayer and petition with thanksgiving, continue to make your [specific] requests known to God.
But have you ever been in a situation where you just don't know how to pray during a specific situation? Perhaps you are mentally and emotionally burnt out and feel hopeless. Or perhaps you are facing temptations that are not good for you and don't know if you have the strength to overcome them.
Declaring prayer points that target challenging areas and communicating your heart with the Lord is essential to help overcome temptation. I believe that the Holy Spirit will meet you where you are and help you in your situation. 
Matthew 26:41 English Standard Version (ESV) Watch and pray that you may not enter into temptation. The spirit indeed is willing, but the flesh is weak.
Prayer points aren't only for our moments of despair. You can use prayer points even when you experience a true miracle or an answer to prayer thanking God for His provisions. It is our responsibility to pray and rejoice continually in all circumstances (1 Thessalonians 5:16-18)
1 Thessalonians 5:16-18 New International Version (NIV) Rejoice always, pray continually, give thanks in all circumstances; for this is God's will for you in Christ Jesus.
This post is to introduce you to the start of a series on the different types of Prayer Points.
Table Of Contents
The power of prayer has irrevocably and undeniably changed my life. I hope that these prayers for favor from business breakthrough prayers to breakthrough prayer points in your personal life will increase your spiritual growth in the Lord. 
PRAYER POINTS FOR THE PRESENCE OF GOD
Heavenly Father, you are my way of life. Thank You for giving me joy through Your presence and never abandoning me. May I continue to become a safe place for Your presence. In Your precious Son's name, Amen. 
Psalm 16:11 New Living Translation (NLT) You will show me the way of life, granting me the joy of your presence and the pleasures of living with you forever.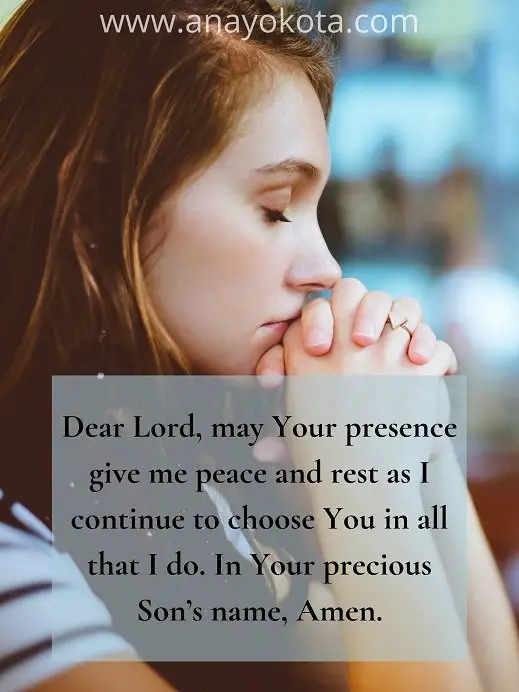 Dear Lord, may Your presence give me peace and rest as I continue to choose You in all that I do. In Your precious Son's name, Amen.
Exodus 33:14 New Living Translation (NLT)The Lord replied, "I will personally go with you, Moses, and I will give you rest—everything will be fine for you."
Precious Father, help me to stay focused on You so that Your presence will always be with me. I pray that my connection with You will only grow stronger giving me access to Your heart. In Your precious Son's name, Amen.
Psalm 27:4 English Standard Version (ESV) One thing have I asked of the Lord, that will I seek after: that I may dwell in the house of the Lord all the days of my life, to gaze upon the beauty of the Lord and to inquire in his temple.
WARFARE PRAYER POINTS 
Dear God, I put my complete trust in You and submit to You will. I ask for strength so that I may stand first against the devil. In Jesus' mighty name, Amen.
James 4:7 Amplified Bible (AMP) So submit to [the authority of] God. Resist the devil [stand firm against him] and he will flee from you. In Jesus' mighty name, Amen.
Father in Heaven, I declare Your truths upon my life. May no weapon formed against me prosper. I am Your child fashioned from love and ask Your Holy Spirit give me courage to praise and worship You in times of warfare. In Jesus' mighty name, Amen.
Isaiah 54:17 New King James Version (NKJV)
No weapon formed against you shall prosper,
And every tongue which rises against you in judgment
You shall condemn.
This is the heritage of the servants of the Lord,
And their righteousness is from Me,"
Says the Lord.
PRAYER POINTS FOR PROTECTION
Dear Lord Jesus, I declare that I will stand strong in times of battle never forgetting the tools You've provided. Please help me put on the whole Armor of God and stand against and resist the rulers, powers, and spiritual forces of darkness. In Jesus' powerful name I pray, Amen.
Ephesians 6:11-17 Amplified Bible (AMP) Put on the full armor of God [for His precepts are like the splendid armor of a heavily-armed soldier], so that you may be able to [successfully] stand up against all the schemes and the strategies and the deceits of the devil. For our struggle is not against flesh and blood [contending only with physical opponents], but against the rulers, against the powers, against the world forces of this [present] darkness, against the spiritual forces of wickedness in the heavenly (supernatural) places. Therefore, put on the complete armor of God, so that you will be able to [successfully] resist and stand your ground in the evil day [of danger], and having done everything [that the crisis demands], to stand firm [in your place, fully prepared, immovable, victorious]. So stand firm and hold your ground, having tightened the wide band of truth (personal integrity, moral courage) around your waist and having put on the breastplate of righteousness (an upright heart), and having strapped on your feet the gospel of peace in preparation [to face the enemy with firm-footed stability and the readiness produced by the good news]. Above all, lift up the [protective] shield of faith with which you can extinguish all the flaming arrows of the evil one. And take the helmet of salvation, and the sword of the Spirit, which is the Word of God.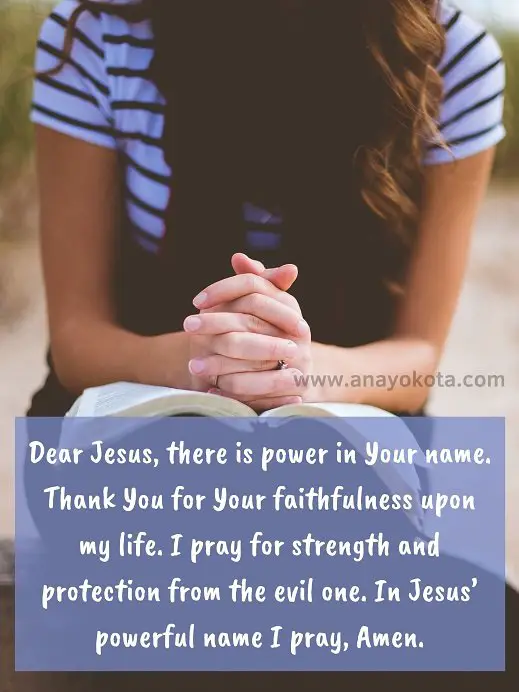 Dear Jesus, there is power in Your name. Thank You for Your faithfulness upon my life. I pray for strength and protection from the evil one. In Jesus' powerful name I pray, Amen.
2 Thessalonians 3:3 New International Version (NIV) But the Lord is faithful, and he will strengthen you and protect you from the evil one.
Dear Lord, You said that You will not give anything we cannot handle. I pray for grace and protection through this temptation so that I may persevere and overcome this challenge. In Jesus' powerful name I pray, Amen.
1 Corinthians 10:13 New International Version (NIV) No temptation has overtaken you except what is common to mankind. And God is faithful; he will not let you be tempted beyond what you can bear. But when you are tempted, he will also provide a way out so that you can endure it.
MORNING PRAYER POINTS
Beautiful Father, I pray for favour in business at my workplace. I ask for supernatural wisdom and knowledge to do my work with excellence and grace. Please use me to bring Your kingdom wherever I go and be an influence that brings inspiration to seek You more. In the precious name of Jesus I pray, Amen.
Psalm 90:17 English Standard Version (ESV) Let the favor of the Lord our God be upon us, and establish the work of our hands upon us; yes, establish the work of our hands!
Dear Lord, You know everything about me, all my struggles, and my every need. I declare breakthrough over my financial situation. You have such a beautiful plan for my life full of hope and favor. In the precious name of Jesus I pray, Amen.
Jeremiah 29:11 Amplified Bible (AMP) For I know the plans and thoughts that I have for you,' says the Lord, 'plans for peace and well-being and not for disaster, to give you a future and a hope.
Dear Jesus, thank you for the things that I have each day. You want to give me abundantly more than I could ever imagine. Help me to be obedient, kind, and courageous today. May I never forget Your goodness and love throughout my daily tasks. In the precious name of Jesus I pray, Amen.
Ephesians 3:20-21 The Message (MSG) God can do anything, you know—far more than you could ever imagine or guess or request in your wildest dreams! He does it not by pushing us around but by working within us, his Spirit deeply and gently within us.
PRAYER POINTS FOR SPIRITUAL GROWTH
Dear Heavenly Father, I seek You today to know You more. Help me to love like You and live like You through my relationship with You. Please give me perseverance and patience even in the midst of the unknown. In Your lovely name I pray, Amen. 
Revelation 3:20 English Standard Version (ESV) Behold, I stand at the door and knock. If anyone hears my voice and opens the door, I will come in to him and eat with him, and he with me.
Pappa God, I trust You with my life. I pray for strength so that I may not give up. Even in areas where I feel lost, I will always choose You. Please help me to stay disciplined and focused on You so that I may walk in love and freedom. In Your lovely name I pray, Amen. 
Isaiah 40:31 New Living Translation (NLT) But those who trust in the Lord will find new strength. They will soar high on wings like eagles. They will run and not grow weary. They will walk and not faint.
Dear Lord Jesus, I pray for wisdom in my words and wisdom in my actions that I may be a witness to those who may not know You yet. I ask for grace and strength to gain breakthrough. I celebrate my life and thank You for this wonderful opportunity to know You more. In Your lovely name I pray, Amen. 
Colossians 4:5-6 Amplified Bible (AMP) Conduct yourself with wisdom in your interactions with outsiders (non-believers), make the most of each opportunity [treating it as something precious]. Let your speech at all times be gracious and pleasant, seasoned with salt, so that you will know how to answer each one [who questions you].
PRAYER FOR THE CHURCH
Dear Jesus, thank You for my church family. I continue to pray for your presence to fill the church. I pray for protection and prosperity in the church that it may bear fruit and be a beacon of hope to your people. In Jesus' powerful name I pray, Amen. 
Colossians 1:9-10 New International Version (NIV) For this reason, since the day we heard about you, we have not stopped praying for you. We continually ask God to fill you with the knowledge of his will through all the wisdom and understanding that the Spirit gives, so that you may live a life worthy of the Lord and please him in every way: bearing fruit in every good work, growing in the knowledge of God.
---
Here in this post, I provided an overall explanation on prayer and an introduction to prayer points. May these prayer points for today be a continual relationship with the Heavenly Father wherever life's adventures take you. 
I pray for breakthrough and God's favor in all your endeavors.
For more focused prayer points (such as Prayer Points For Marriage), please be sure to check back for new posts!