This post may contain affiliate links. Please read my disclosure policy for more info.
Korean traditional games are played during special events celebrating pieces of history or simply during outdoor picnics where children love to play. Learn about Korea's history as we delve into traditional games.
Korea is a country with a rich culture that is full of tradition. One aspect of Korean culture that has been passed down for centuries are the Korean traditional games. These games date back to the Joseon Dynasty, and they were enjoyed by both children and adults alike.
Many of these are Korean outdoor games and typically enjoyed during festive holidays commemorating a special day in history. Some folks like to pack their favorite Korean traditional snack, Korean drinks, and go out for a nice Korean picnic as they enjoy these fun games.
In this blog post, we will discuss eight of the most popular Korean traditional games. We will explain how to play each game, as well as its history and significance in Korean culture. So put on your hanbok (traditional Korean clothing) and let's get started!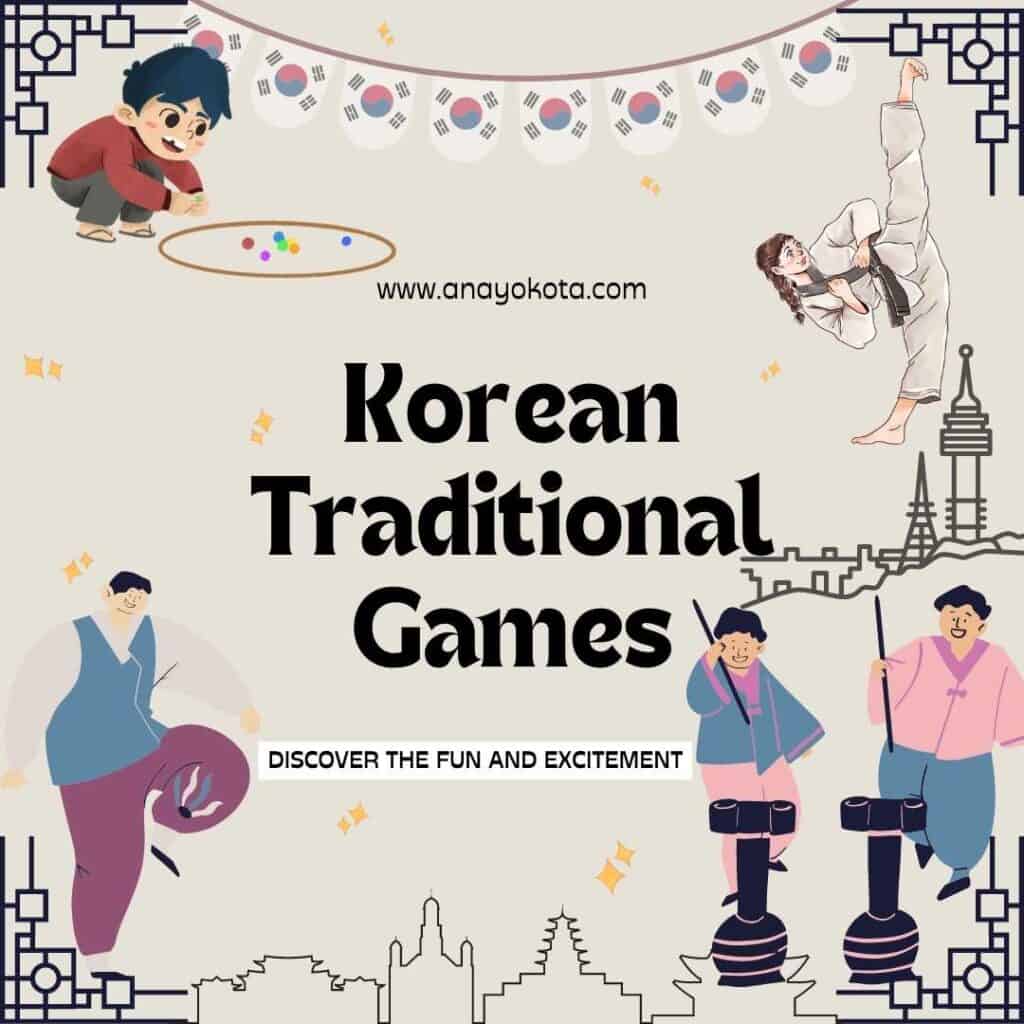 Tuho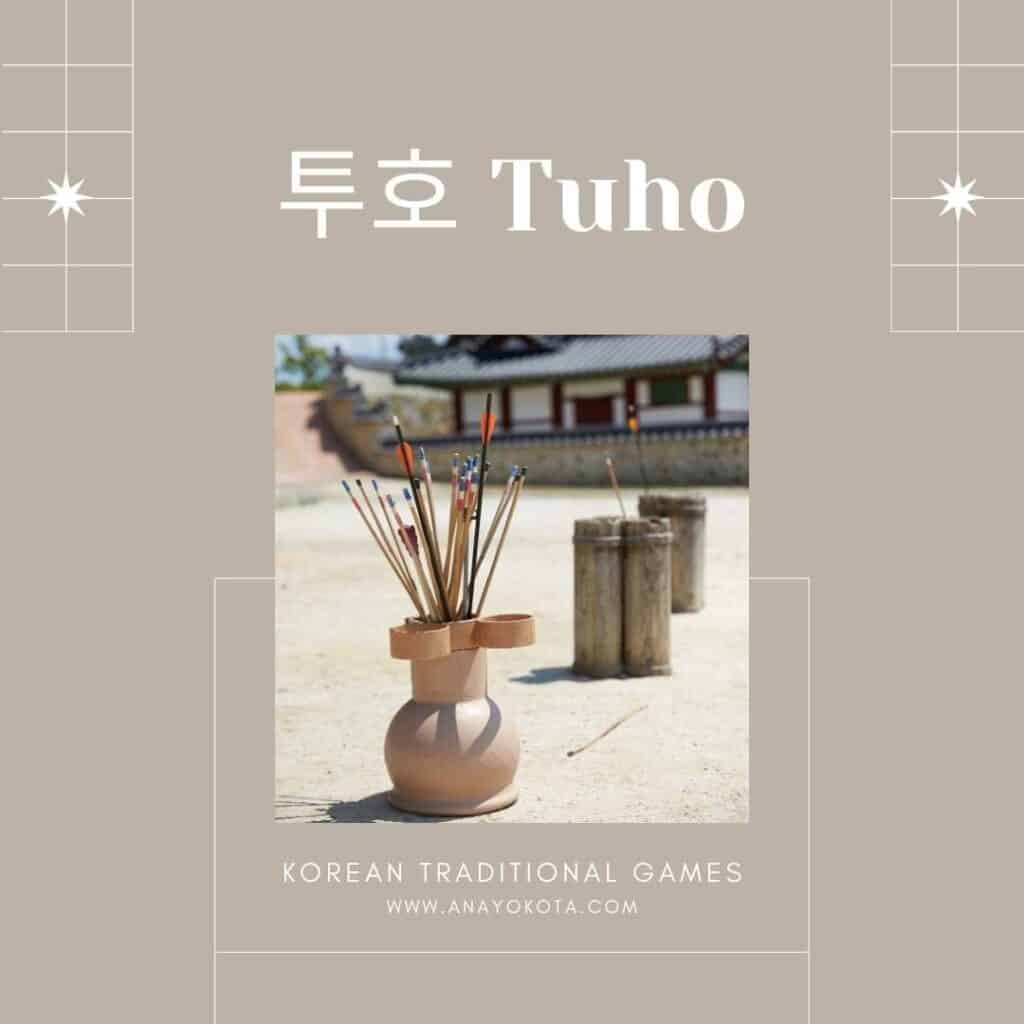 Tuho (or Pitch Pot) is a Korean traditional game that dates back to the Joseon Dynasty. The game is played with a set of arrows and a target bucket. Don't worry, these arrows are dull and are great Korean games for kids.
The objective of the game is to score points by hitting the target bucket with your arrows. The person that has the most arrows in the target bucket wins.
It almost feels like a combination of the Western ring toss and dart game. How good is your aim? Try to make all the arrows in the bucket.
Jegichagi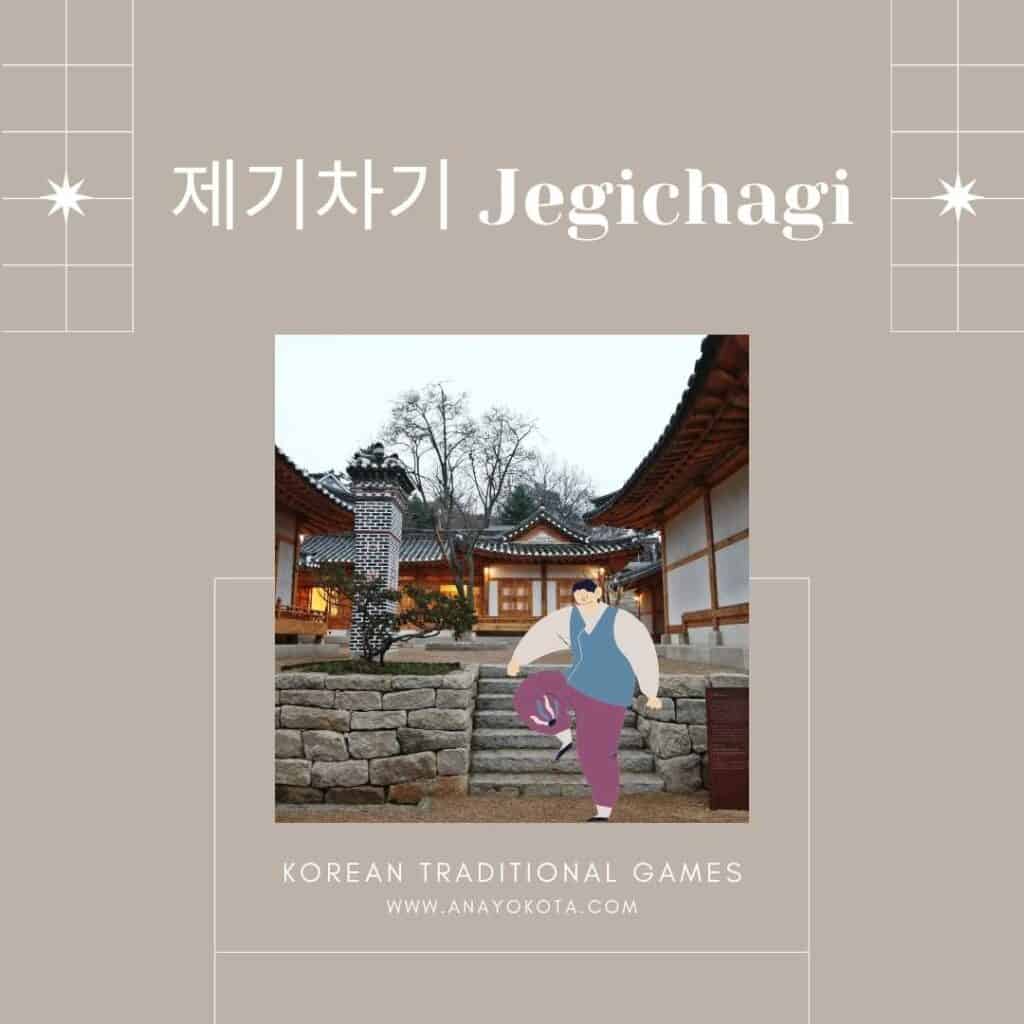 Jegichagi is a Korean traditional game that is similar to hacky sack. The game is played with a small "ball" made of rice and fabric; traditionally, they are made with coins.
It is easy to make at home. All you need is some rice (or anything similar in size and weight like beads or raw orzo pasta), fabric that can hold the rice, and string to sow the fabric together.
The objective of the game is to keep the ball in the air for as long as possible without using your hands by tossing it with your feet (imagine hacky sack or a mini soccer ball game). You can alternate your feet to help you leverage a longer rally and use your knees too! You just can't use your upper half of the body. How many times can you jegichagi before it drops to the ground?
Yutnori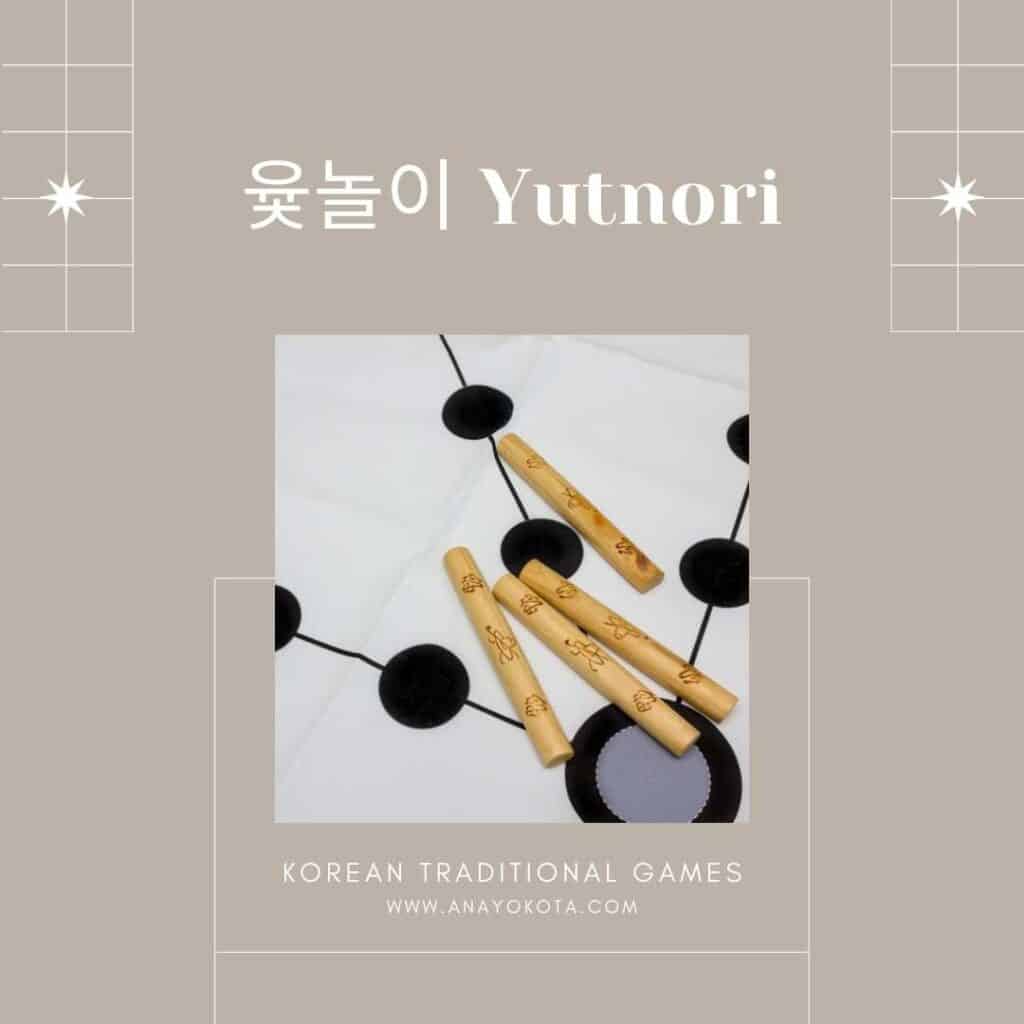 In short, Yutnori is a traditional Korean game that uses 5 specially marked wooden sticks and a game board. The sticks are in a long cylindrical shape that's about 6-7 inches with a flat side. Imagine a cylinder that has been cut in half long ways.
The object of the game is to toss the wooden sticks and achieve points to help advance your tokens on the game board. The game board has spaces where you can advance your pieces to win the game.
If you would like an in depth tutorial on how to play Yunori, please let me know in the comment section below or send me an email. It would help me a lot to hear from you guys so I can give you fresh content that is most helpful.
Yutnori is usually played during major holidays such as Korean New Year's Day, Korean Thanksgiving, and even birthdays. But in my family, it's easily one of our favorite Korean traditional games to play anytime of the year because kids and adults can have a lot of fun.
If you're looking for the best Korean games to play in groups this is it!
Go
Go is a traditional Korean board game that is similar to chess. Though the original history of Go dates all the way back from China 2,500 years ago, it is an iconic game in Korea.
The game is played with black and white stones on a board with squares. Oversimplified, the objective of the game is to capture all of your opponent's stones by moving them around the board.
Go is very popular amongst the younger and older generations as it involves a tremendous amount of strategy. Much like chess, Go has competitions, teams, and various conventions throughout the year celebrating the game.
Omok – Gomoku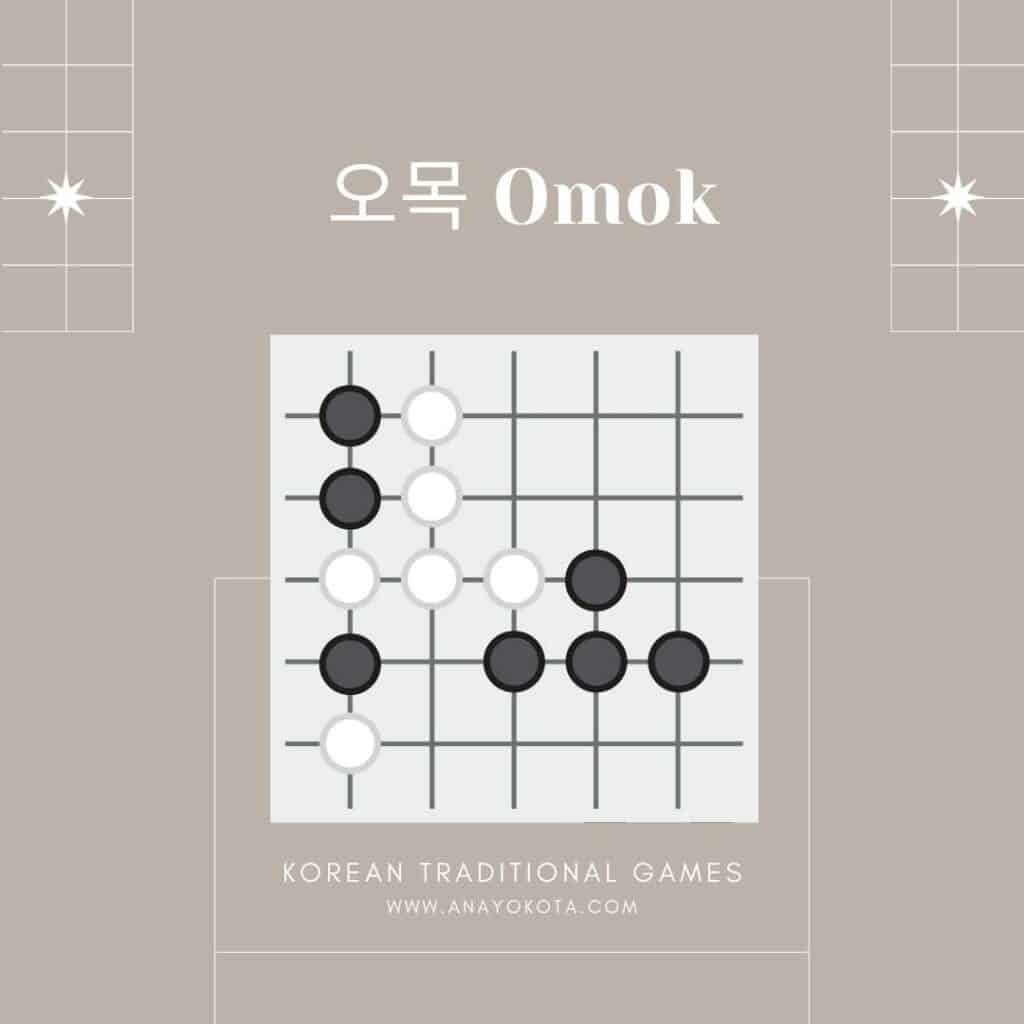 Furthermore, you can enjoy playing various Korean board games with the Go board. However in my opinion, the most popular game in Korea using this board is Omok.
Omok or otherwise known as gomoku, is a two player game that uses Go pieces and board to play Korean's version of "Connect Four". Except, instead of connecting four in a row, it is with five of the same colored stones.
Essentially, using the grids from the Go board, each player takes turns to put down their respective colored stone (which is either black or white). You can place your stones and win five in a row gong horizontally, vertically, and diagonally.
It is a very easy game to learn because it only requires you to make five pieces in a row without being blocked. Though it is easy to learn, it still does require strategy if you don't want to be blocked (like the American game, Connect Four).
This game is played throughout the year and is so popular, many play virtual omok on their phones.
Speaking of phone games, many Korean top games are now offered digitally in the palm of your hands. You can find all sorts of Korean activities that have been modified but still honor the essence of the game.
One of the most popular Korean games I've enjoyed online is Hwato, which I'll explain in a moment.
Ssireum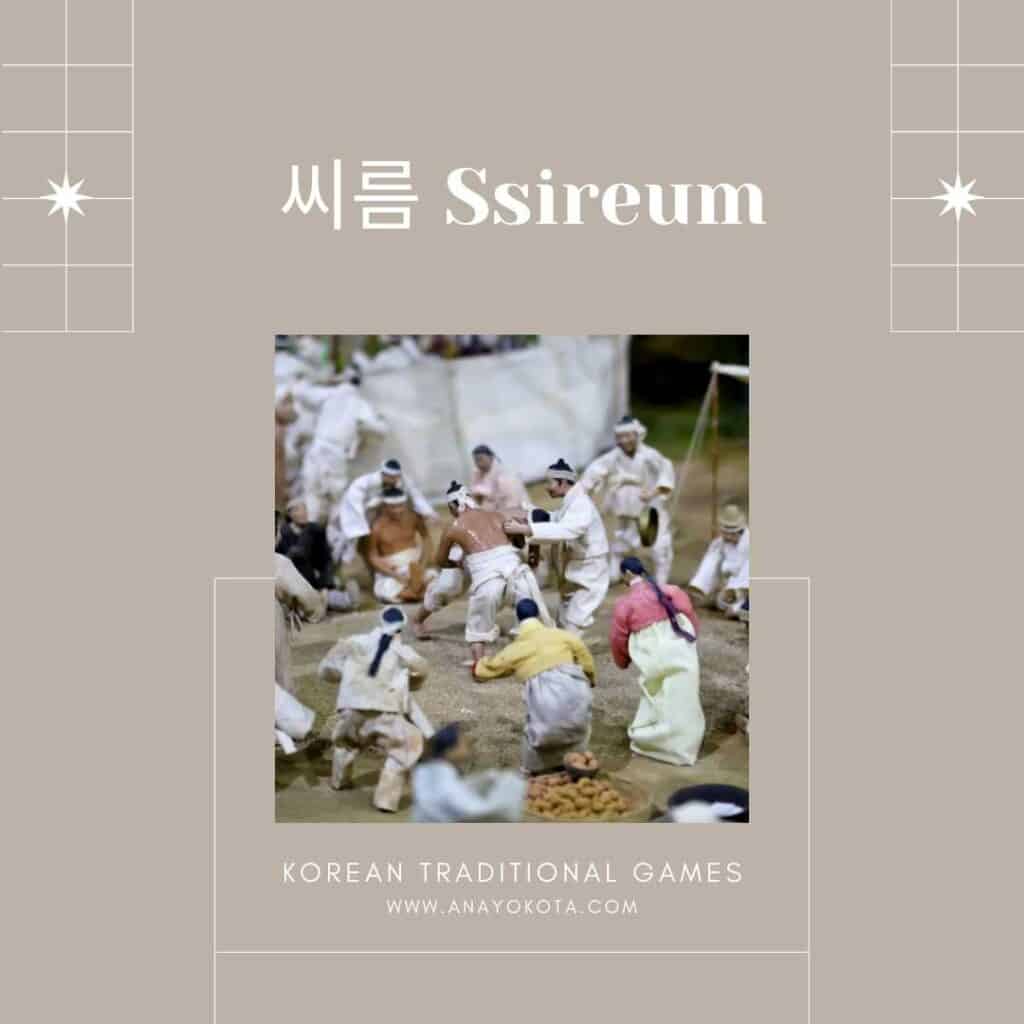 Ssireum is a traditional Korean wrestling sport that dates back to the Joseon Dynasty. Korean traditional games through sports have been an ongoing trend even in modern games. This sport is played with two opponents who try to takedown each other using only their legs and upper body strength.
Each player wears a belt that is used to grasp the opponent down. The player that is able to pin the other player to the ground wins. Unlike traditional wrestling, this game is typically played standing up and has no penalty for going out of bounds.
Though several Korean traditional games like these have been around for years, it has been modified in the 20th century to help maintain playing rules and boundaries.
Gungdo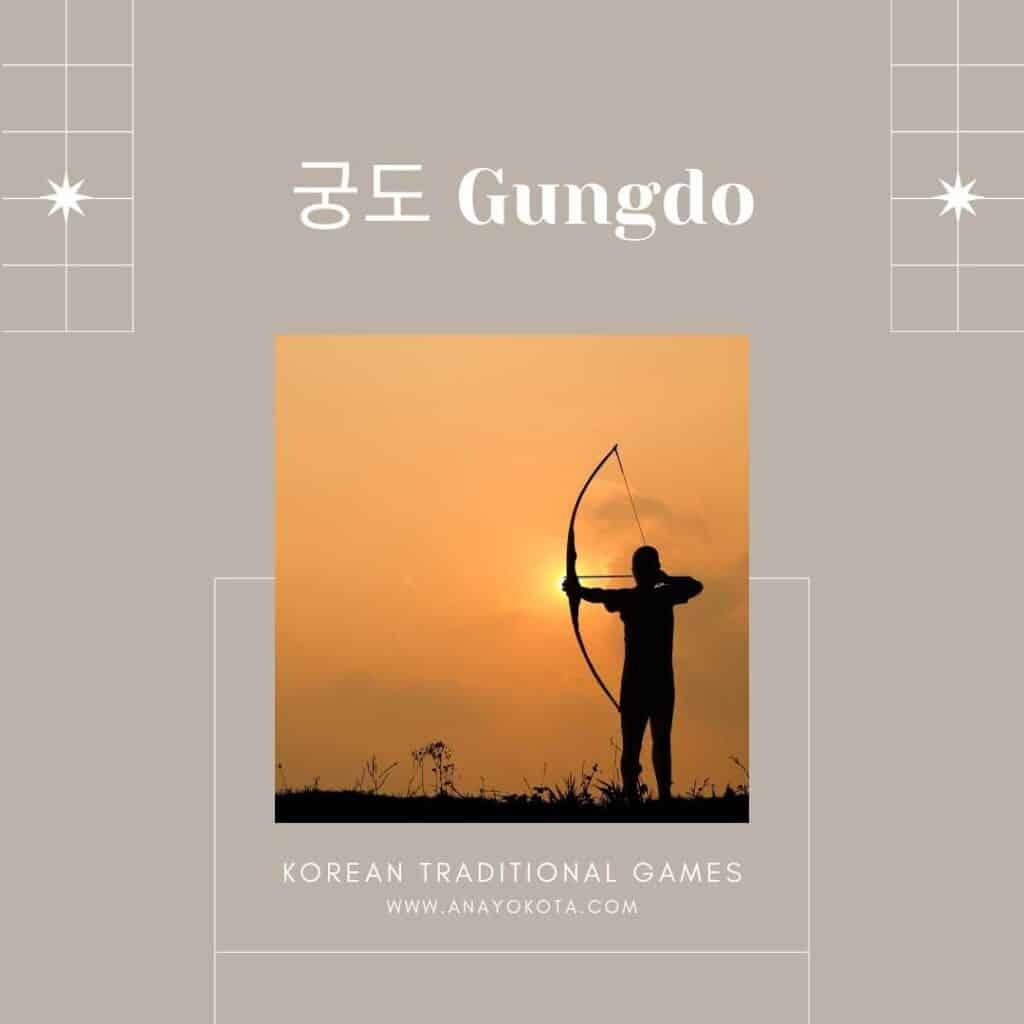 Gungdo is a traditional Korean martial art that focuses on archery fighting techniques. The art dates back to the Joseon Dynasty and was used by the military for training purposes. Nowadays, modern day history plays gungdo (archery) as a competitive sport.
South Korea is one of the leading countries in archery. In the past Olympic games, Korea has won the podium in multiple generations.
Exactly like archery, gungdo uses a bow and arrow to shoot the target. Though this may seem like a singular sport, many times, it is played as a team to help increase their score.
Hwato (Go-Stop or Godori)
If you're looking for Korean new year games, this is perfect as it can be played with multiple people. Hwato is a traditional Korean deck of cards that is used to play games such as Go-Stop, Godori, and many more.
Much like a 52 card deck, Hwato can be used to play various types of traditional Korean games. However, the most popular games in Korea is Go-stop.
The deck of cards consists of 48 cards (plus 4 extra cards that act as Jokers). Each card is compartmentalized in 12 different categories representing the 12 months of the year. Each category has 4 cards.
Depending on the game, the number of players vary. Furthermore, since there are different ways to play with Hwato, the object of each game is slightly different. For example, Go-stop is used to try to get as many cards that are in each "month".
Hwato is played all throughout Korea but also has a bad reputation because many people gamble, which is unfortunately illegal in Korea.
Despite the gambling history, Hwato is a personal favorite when it comes to Korean traditional games during the holidays.
Gonggi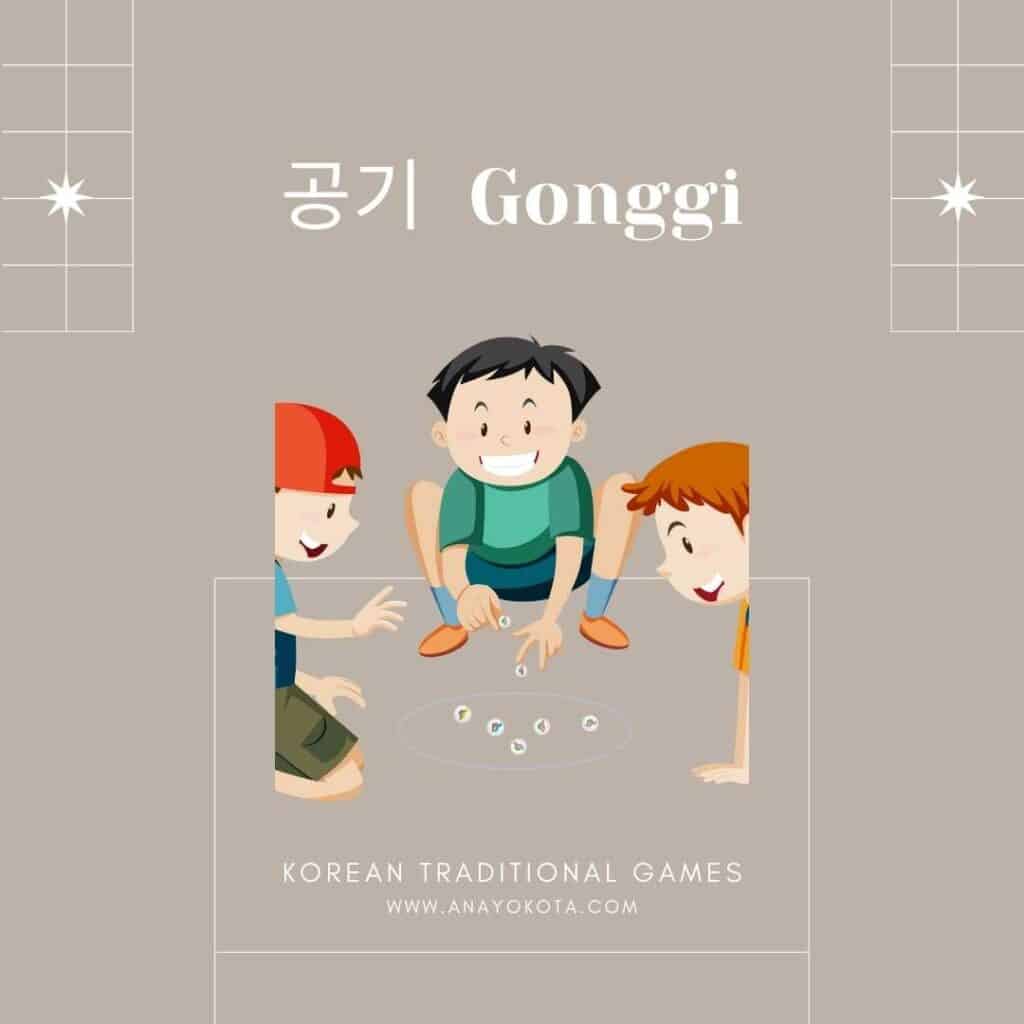 Gonggi is a Korean tradtional game that is played with 2-10 players. The game consists of five small stones (or beaded stones) that are light weight and round. The object of the game is to collect all five stones in your hands without dropping one. Traditionally, this is a children's game that is played in the streets, but now, many people play this game at home with "stones' that are hollow with beads inside.
There are 5 rounds. In the first round, to start the game, the player will toss all five stones on the ground. The player will select one stone to toss in the air while they must grab only one stone from the ground (without touching the other stones) and catch the stone in the air. In other words, the player must grab one stone from the ground and catch the stone in the air before it drops to the ground.
The second round, the player will toss all five stones on the ground again. The player will select one stone to toss in the air while this time, they must grab TWO stones from the ground and catch the stone in the air.
Similarly, in the third round, the player must grab THREE from the ground before the stone in the air drops to the ground.
The fourth and five rounds are a little different. In the fourth round, you start with all five stones in your hand and select one to toss in the air. While that stone is in the air, the player must place the remainder stones (four stones) on the ground and catch the stone in the air before it drops to the ground. Once they grab the stone in the air, they must toss that same stone again and grab all four stones on the ground and catch the stone in the air before it drops to the ground.
On the fifth and final round, the player has all five stones in their hands. The player must gently toss all the five stones in their hands and try to "catch" as many stones on the back of their hands. Whatever they are able to catch on the back of the player's hands, they must toss back in the air and catch them all before they drop to the ground. If you catch all the stones that were tossed, that is the number of points you gain for the entire round.
If you survive all five rounds without dropping the stones accidentally, then you go back to round one and start over accumulating more points. The person to reach a designated number of points (say 20) wins the game.
I would say this is my favorite Korean traditional games for kids because it involves hand eye coordination and tons of group effort. I've also seen many children compete at Korean playgrounds because even those that aren't playing love to spectate this fun game.
Pungmul (Bonus!)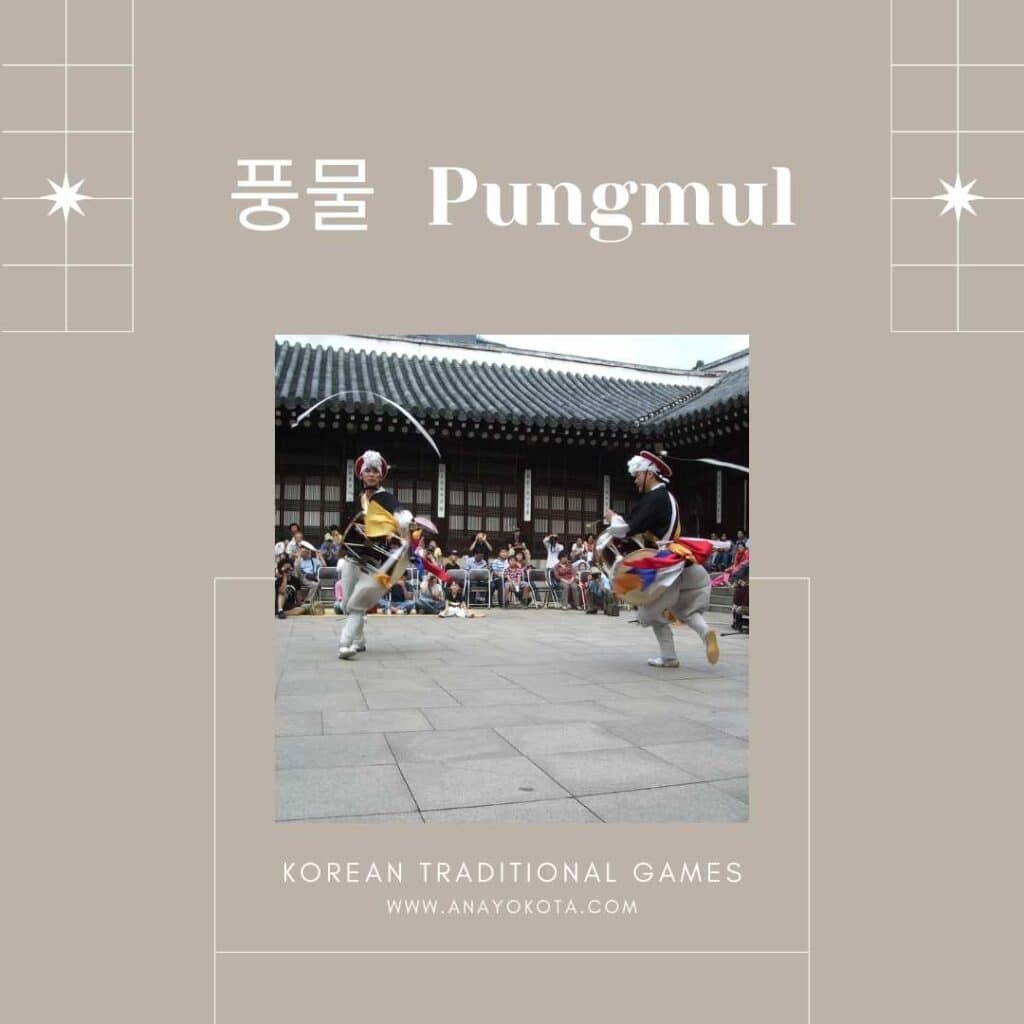 Pungmul is a traditional Korean performing arts genre that combines music, dance, and theatre elements. Korean folk games like Pugmul gets everyone excited on their feet not just for the kids but adults too.
The art form originated from farmers who would use farm tools such as drums and sticks to perform music and dance while working in the fields. Though this may not seem like the traditional Korean games we have been explaining, this is a very common component when celebrating cultural events that involve games.
Conclusion
Korean traditional games are a great way to connect with Korean culture. The Korean traditional games are easy to learn and can be played by people of all ages. By playing these games, you can better understand the importance of South Korean culture and how it is passed down from generation to generation.
On your next game night make it Korean traditional themed with your favorite traditional snacks and games.
Many of our cultural norms have shifted online due to the pandemic making playing games in person a little harder. From traditional Korean games to modern fun games, don't let the pandemic stop you from having fun with your coworkers or friends. Learn how to continue all the fun with team building games on Zoom.
If you would like to learn more about Korean traditional games and how to play them, please let me know which games you would like to learn. Which are your favorite popular traditional games? Comment below!