This post may contain affiliate links. Please read my disclosure policy for more info.
Korean picnic food is a guaranteed way to take your next summer picnic to a new level. It's a fun but unique twist that will give your family and friends an exciting surprise.
Experiment with sizzling dishes like KKanpunggi, and tantalize their tastebuds with unique flavors that are sure to have them asking for more! With the right recipes in hand, you'll be amazed how simple it can be to make a traditional Korean picnic meal that everyone will love.
Like many other cultures, picnic food ideas are not necessarily a new form of eating out. There is a simplicity and a familiarity to the idea of eating outdoors. With every country's beauty and tradition towards picnics, Korea also has their own long and rich history of Asian picnic food.
Since 1392 lavish spring picnics have been held in Korea during the third month of the lunar calendar. While modern Koreans do not pay as much attention to the dates, they still enjoy picnics during spring and summer. It allows everyone to get into the sunshine and enjoy the fresh air. Korean picnic food is an important part of the festivities, and much attention is paid to it.
Walks in nature and picnics go hand-in-hand. Nothing compares to the thrill of opening up your picnic box or basket, no matter how old you are! There's something special about seeing what Korean delicious food have been lovingly packed away – it always guarantees a fantastic outdoor treat with friends and family.
What Do Koreans Bring To A Picnic?
Dosirak of course! Korean Dosirak Is Ideal For A Picnic. Dosirak has been part of Korean cuisine since the early 1900s. A dosirak is a traditional packed meal or lunchbox, full of rice, meat, vegetables, kimchi and other favorites – very much like a bento box. It's both nutritious and delicious too!
Imagine devouring piping hot, chili dusted kimchi pancakes with just your bare hands. Bite sized portions of spicy chicken are an ideal partner for a park gathering and can also be enjoyed without the need for additional utensils.
Making a DIY dosirak for lunchtime can be a lot of fun — try mixing different types of side dishes to get creative with your meal. Serve it on special occasions or take it with you when you picnic outdoors; in any case, it'll make for a great Korean picnic food.
Alternatively, thoughtful and delicious snacks like gimbap, traditional rice nori sushi wraps packed full of umami veg or even barbecued pork bulgogi are easy options when dining al fresco.
However, if I must choose, easy Korean foods that you can prepare in advance is my kind of picnic.  
For example, get ready for the perfect Korean picnic food adventure with mouthwatering sliced or chunky fresh fruits. Delight your taste buds with juicy grapes, crisp pears, sweet apples, exotic oriental melons, tangy oranges, luscious persimmons, plump strawberries, and tantalizing dragon fruit. Yum!
Fun Fact: During the 80's and 90's it was very popular to turn the dosirak upside down and shake up all the ingredients. It was sort of like making 비빔밥bibimbap (which is mixed vegetables and rice). More modern dosiraks have divisions, and the food is not mixed.
주먹밥 Jumeok-bap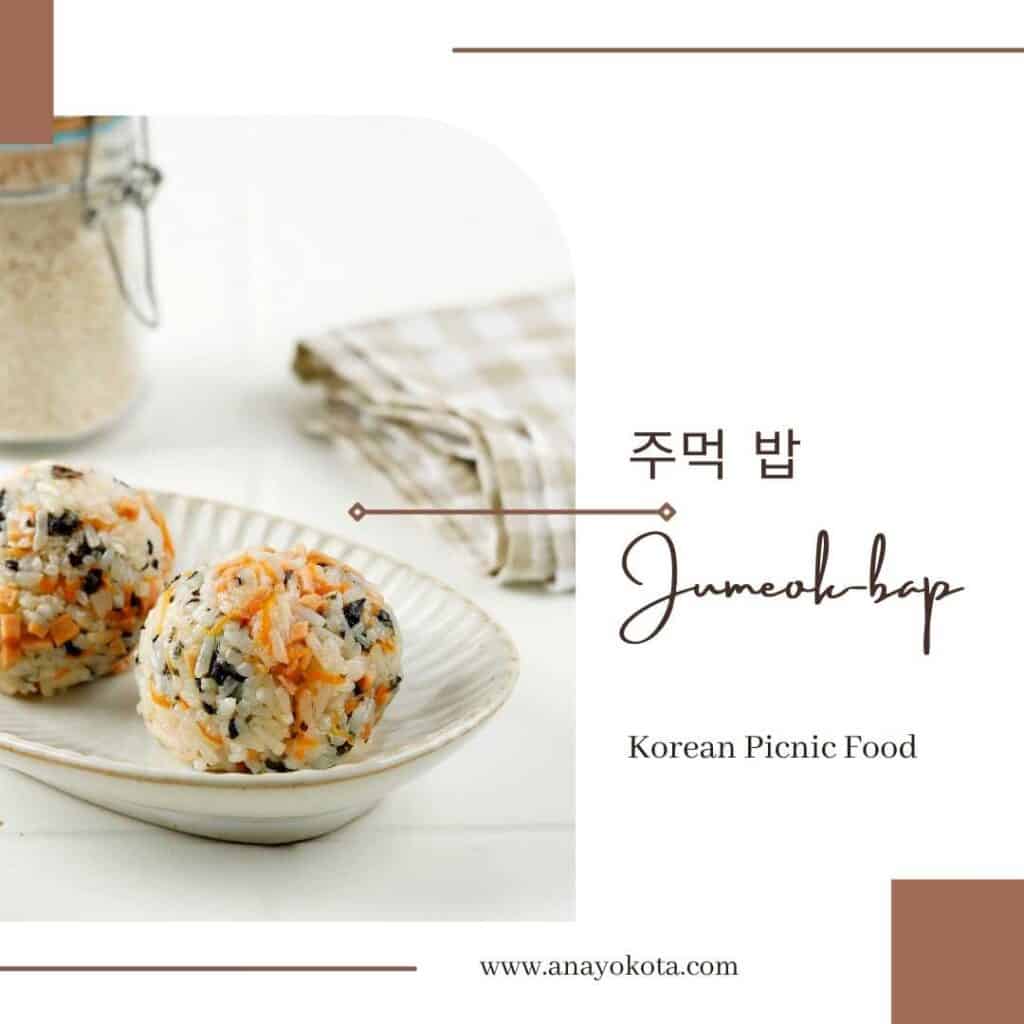 For a truly delicious lunch, start with rice as your base. Then, get creative by adding dried seaweed and chopped vegetables for some crunch and color. Don't forget to add some tuna for protein and mayonnaise for zing and creaminess. Put all of this together, and you'll have amazingly easy to make Korean snacks – infamously known as 주먹밥 (jumeok-bap).
If you are looking for a gluten free option, simply take away the meat and add extra veggies.
The rice is accompanied by various side dishes which is coming up next.
김치 Kimchi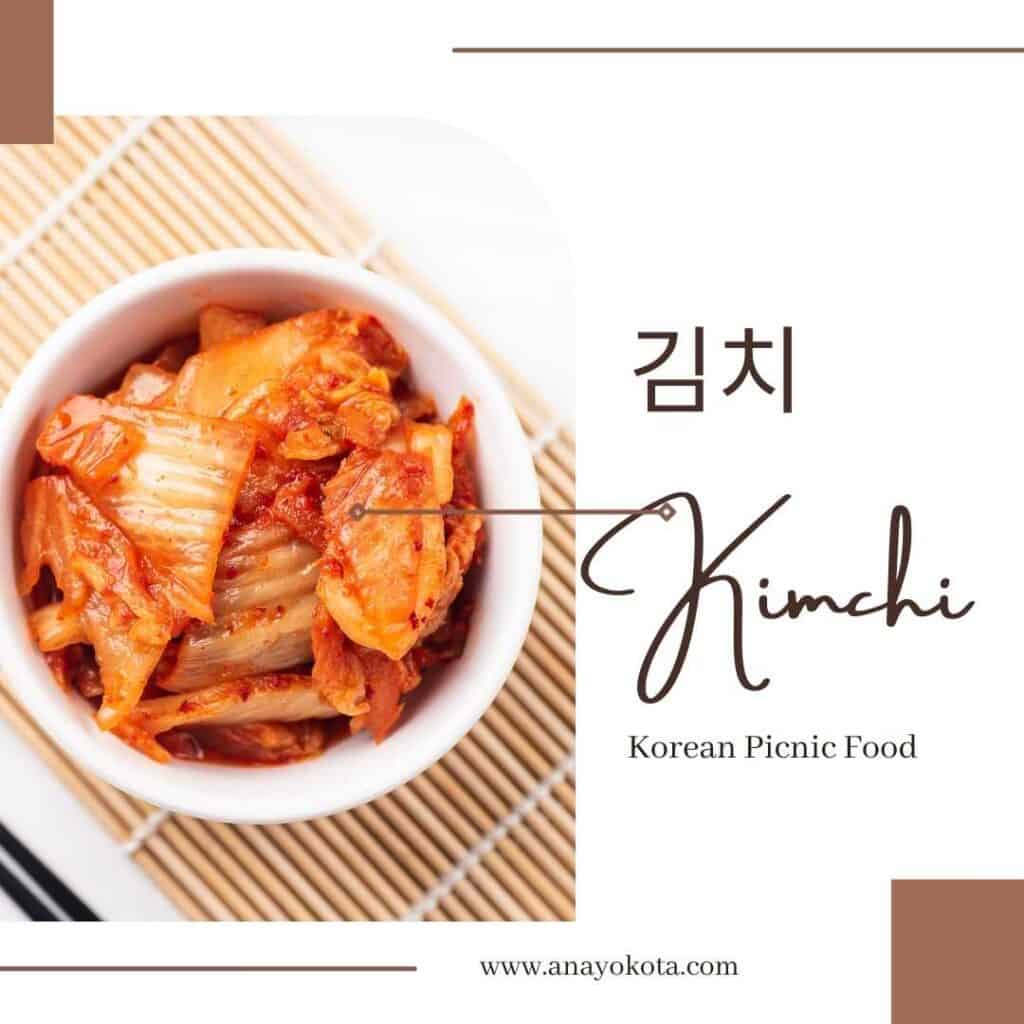 Kimchi, fermented vegetables, is a common side dish to pack in Korean meal ideas. Prepare yourself for a flavor explosion!
Kimchi is as unique as the people who make it; everyone has their own unique blend of veggies and spices, ranging from classic groupings like cabbage, carrots and radish, to something wholly unique.
One of the most important ingredients in good kimchi (that definitely shouldn't be left out) is gochugaru — a beautiful deep red Korean chili pepper. Together this spicy trinity will leave your taste buds loving every bite over and over again!
MUST TRY: Ever tried stir friend kimchi? Kimchi and stir fry are a winning combination! Shake things up with this transformative side dish by adding kimchi to your next stir fry by simply toasting it with sesame oil on a cast iron pan.
If you're feeling adventurous, why not prepare a flavorsome foray into a fusion of Korean and Korean Bacon? Stir frying kimchi will take your dish from ordinary to extraordinary in no time. Enjoy the perfect balance between spicy notes and meaty goodness, providing all the dining satisfaction you need. Tuck in and indulge yourself.
Protein for Korean Picnics
Do you know what makes a Korean picnic complete? Protein! Packed with an array of amino acids, protein is like the building blocks to help keep your body toppling over. Eating food rich in this essential element can help jumpstart the day, keeping energy levels strong for hours of fun and exercise.
That's why many nutritionists and health experts suggest that including at least one source of protein in your Korean picnic (aka: lunch) is critically important. Get creative by picking combinations of chicken, eggs, fish, beans, or cheese – all full of this dietary staple!
Looking for Asian picnic ideas that you can make in advance? Try Korean fishcakes or my super easy chicken bulgogi for your next Korean picnic food outing.
Spam
Did anyone say Spam? I may lose a few readers here. But modern choices may be Spam and other preserved cold meats. Koreans absolutely love Spam and sausages in their picnic foods! It's added at almost any children's Korean food ideas you can think of.
The reason is simple: the saltiness and deliciousness that these items provide leave nothing to be desired. Not only are they tasty, they make all your classic picnic favorites even more enjoyable with the added spices and flavors. In short, Spam and sausages continue to take center stage at outdoor gatherings near and far.
The best part is that spam is delicious even out on a winter picnic outing.
Korean Fried Chicken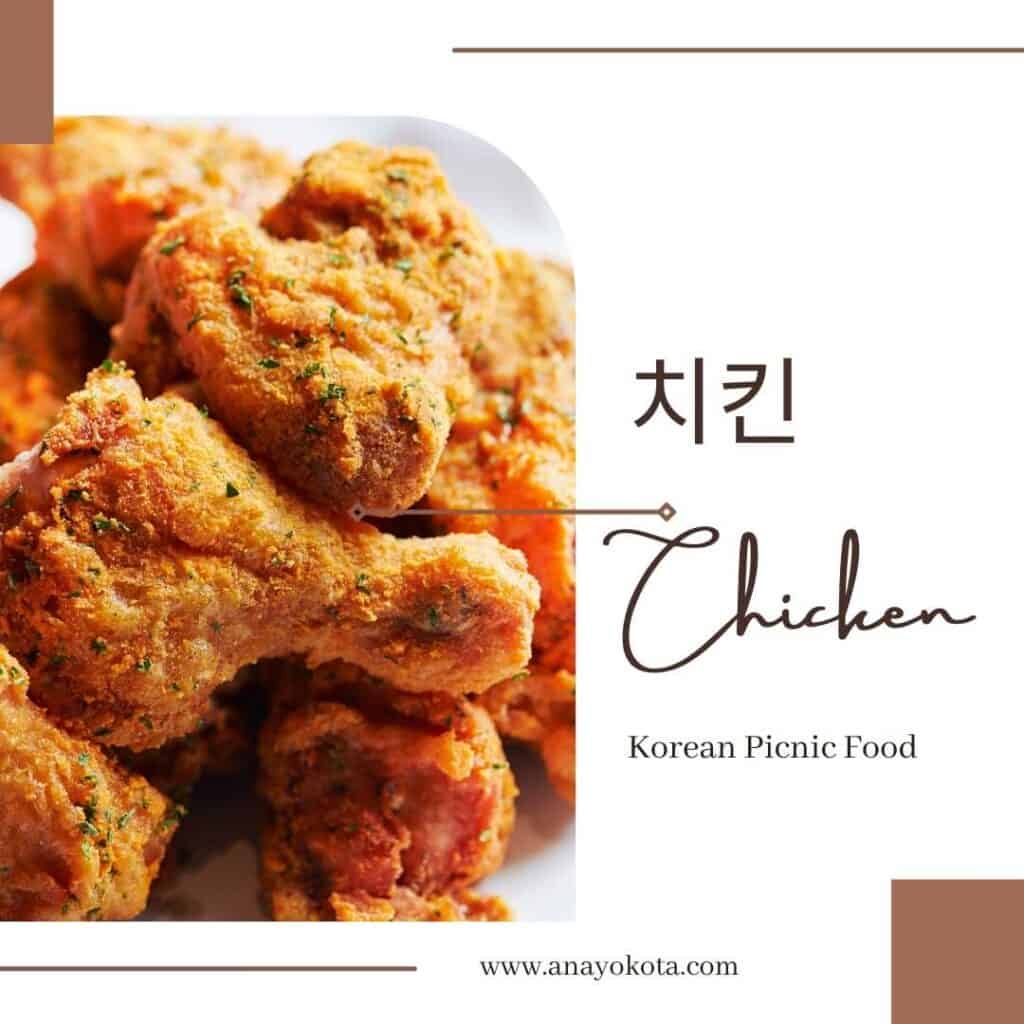 Korean fried chicken is a must-have item for Korean finger food. Koreans take advantage of this craveable dish to get together with their friends and family and enjoy some delicious moments out in nature or in their backyards. Whether you're someone in tune with Korea's food culture or just getting familiar for the first time, you should not miss out on trying some tasty Korean fried chicken during your next picnic.
And don't forget, with Korean fried chicken you must always have Korean Picked Radish or Korean Pickled Garlic to help cut the grease and have you eating more. For a list of Korean food recipes that go well with fried chicken, here is a link to my banchan recipes.
계란말이 Gyeran Mari
Looking for an egg option? One such appealing source is the fried egg—an easy go-to for any outdoor spread. But don't forget about the other delectable option: 계란말이(Gyeran Mari) —a rolled omelet known for its vibrant presentation and scrumptious taste. So don't hesitate to swing by your local market and pick these up—your tummy will thank you later!
Gyeran mari is such a versatile Korean food that can accompany so many themes such as romantic picnic dates food to a happy and bright Korean birthday food.
The original Gimbap  or kimbap is a delicious and unique Korean dish that you need to try. They're made with fresh ingredients, like seasoned white rice, and healthy veggies like carrots, spinach, and seasoned gobo. They are lovingly rolled up in seaweed to form the perfect shape for taking along on any adventure!
Now picture this: the classic gimbap transformed into an effortlessly portable triangle! Get ready for the ultimate Korean picnic treat – feast your taste buds on these easy Korean lunch recipes.
Fried Tofu and Kimchi
Tofu cut into small bite-size portions is fried for a crispy treat that is easy to eat on a picnic. Now add stir-fried kimchi and you have a marriage made in heaven.
I also love fried tofu and Kimchi with a steaming bowl of rice as one of my easy Korean dinner recipes. It is done in minutes and doesn't break the bank. Best of all, it is highly nutritious and packed with amazing flavor.
Yubuchobap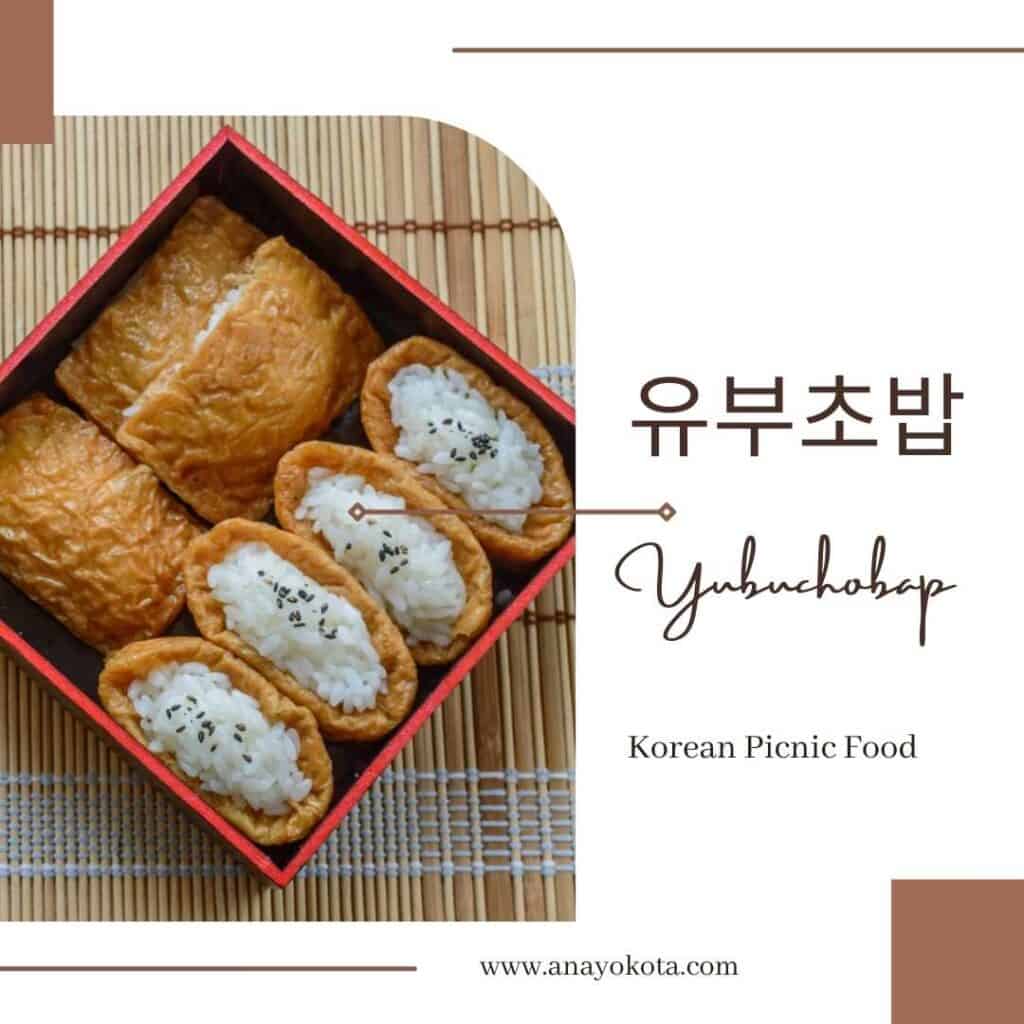 Speaking of tofu, get ready to taste the delightful fusion of tender tofu pockets filled with the wholesome goodness of rice and veggies. Introducing yubuchobap – a scrumptious adventure your taste buds definitely shouldn't miss!
This can be great if you're also looking for Korean camping food ideas because they require no utensils to eat and super easy to make. For the best Korean recipes for camping, try Korean picnic foods that you can eat with your fingers as they are easiest to clean and simple to pack.
김 Gim
Gim, or dried seaweed, is an amazing addition to your Korean picnic food. Not only does it add an incredible crunch and umami seafood flavor, but it is completely effortless.
All you have to do is put a thin layer on the top of your favorite rice and it will enhance their already phenomenal taste. So, go ahead and let this amazing addition bring some life into your Korean picnic food.
Korean Picnic Drinks
Looking for drinks for your picnic? You can't go wrong with bottled water or sodas! They're an easy, fuss-free option – simply open and serve! Plus, they provide an opportunity to enjoy some of your favorite carbonated sips.
Whether you're in the mood for something bubbly and light or a stronger, bolder drink, there's an alternative that fits your taste.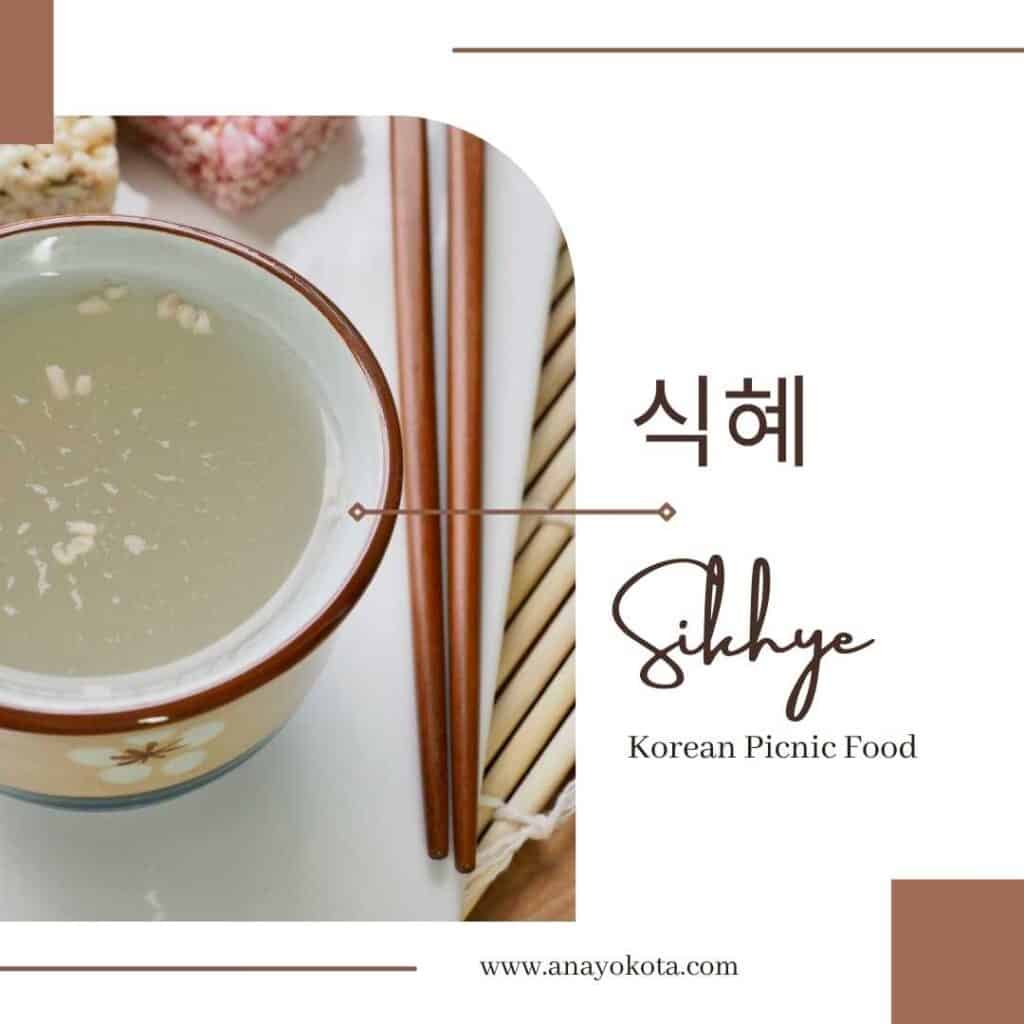 For example, Sikhye is a traditional Korean drink made from malted barley and rice. Sujeonggwa is a refreshing cinnamon and persimmon flavored beverage. For a more extensive list of the most popular Korean drinks, learn about it today on the blog.
What Food Do You Bring To A Korean Potluck?
In Korean culture, potluck parties or feasts are very common. Everyone brings a unique dish and the result is an amazing meal with flavors from all over. Nothing compares to a good ol' potluck where everyone contributes something special.
You can sample dishes you've never tried before while enjoying familiar favorites too, like Grandma's secret recipe! It's truly an amazing experience gathered around the dining table with friends and family members sharing delectable Korean creations.
김치 Kimchi
Kimchi is the perfect potluck dish! Not only is it easy to make, but it comes packed with tasty flavors and unique texture. Plus, it can feed a crowd quickly, making it ideal for busy potlucks.
Talk about crowd pleasers—Kimchi definitely fits the bill. Try serving it with some rice or noodles to help balance its spicy and sour flavors. Kimchi strikes the perfect balance between comfort food and something special, so your potluck crew will all be sure to try and love it.
New to kimchi? I have an article on kimchi you might find helpful that helps explain what does kimchi taste like.
As mentioned above in the Korean picnic food section, yubuchobap is a wonderful shareable option. It's a reasonably priced and good option for a potluck, too. My recipe uses seasoned rice stuffed into soybean curd pockets with diced veggies and optional meat.  
깐풍기 Kkanpunggi
Feast your taste buds on KKanpunggi – a tantalizing explosion of spicy, crispy fried chicken mingling with vibrant diced veggies, fiery chili oil, and rich garlic. It's a must-try culinary adventure! Not only is this a perfect crowd pleaser for your next potluck but bring it as a Korean picnic food and I'm sure you'll have drooling eyes peering over.
밥 Cooked Rice
You simply can't imagine a delightful Korean feast without that scrumptious, fluffy rice completing the experience. If you are pressed for time and can't wait to cook rice, you can make steamed rice in minutes with instant rice.
인절미 Injeolmi
Need a sweet element to complete your Korean potluck game? Try bringing the iconic Korean rice cake, Injeolmi. Injeolmi is a more complicated rice dish. It is made from steamed rice (much like mochi) and shaped into easy bitsize pieces. The rice dough is dusted with roasted soybean, mugwort powder, or black sesame.
For a more extensive list of options on Traditional Korean Snacks such as honey rice cakes or rice cakes filled with delicious red bean, check out my article on all things traditional snacks from Korea.
감자 샐러드 Gamja Salad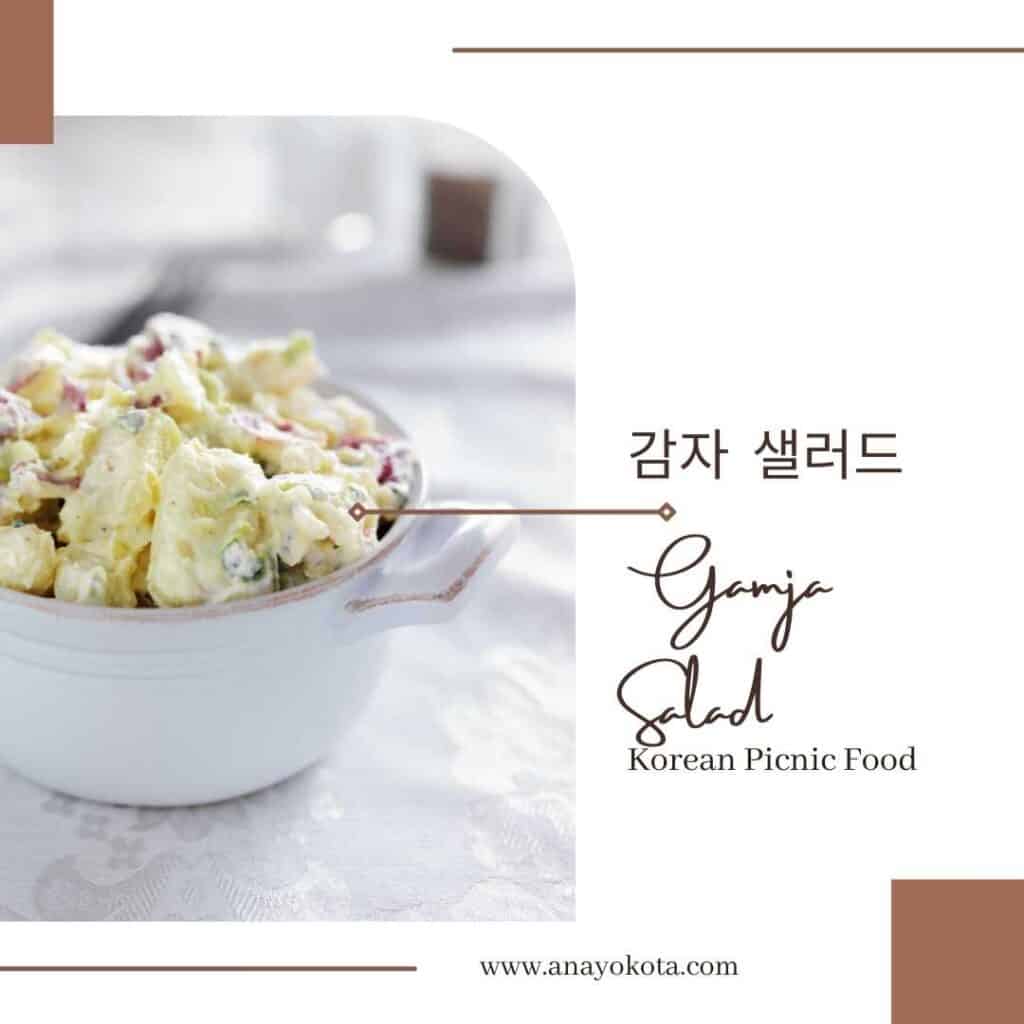 Korean potato salad (gamja-salad) is a creamy dish with cucumber, hard-boiled eggs, ground pepper, apples, and mayonnaise. There are two variations, one where the potato is mashed and one where the potato is cut into wedges. Both a winning dish to bring to your next party.
호떡 Hotteok
If you're looking for a crowd-pleaser dessert to add to your next potluck spread, we've got the perfect suggestion: Korean sweet pancakes, known as hotteok. This delightful treat is a mouthwatering choice that no one will be able to resist.
Hotteok have a form of mildly sweet prime yeast dough with a fragrant nutty filling inside. The heat from the pan causes it to puff up agreeably, yielding a richly flavored pancake that is always guaranteed to make everyone's taste buds tingle with joy.
Filled will all kinds of variations like red bean, walnuts, cinnamon, and brown sugar, your special treat isn't just delicious but exciting too!
FAQS
Do Koreans Use Blankets Or Mats At A Picnic?
In short: Yes, Koreans uses mats at a picnic.
There's nothing quite like the joy of a picnic under the warm summer sunshine. Bringing a blanket or mat for the ground to provide a comfortable seating area is a great way to enjoy the day.
For families coming from Korea, packing specialty mats may be as natural as grabbing your favorite snacks – but even if you don't necessarily have that idea in mind – picnic mats turn out to be a very helpful addition. Not only do they offer a bit of insulation from the warmth of the sun, they can add extra padding so that you're more comfortable when lounging around.
Many Koreans like to dress up and a nice picnic mat can help protect those beautiful Korean picnic outfits.
Recently recycled materials such as newspaper or plastic have been made into picnic mats in Korea when caught in a pinch. Some parks have picnic mats and tents that can be rented for the day.
Many Koreans take a tent when they go on a picnic. The tents are lightweight and easy to erect. Some have only three sides, leaving the fourth side open for easy access.
Do Koreans Grill Meat At A Picnic?
In some places, Koreans may grill meat at a picnic. This largely depends on the picnic site rules. Some of the more rural sites allow grilling, but others forbid it. Usually, very popular picnic sites near the cities do not allow meat to be grilled.
Always do your research before deciding to grill in a public place to make sure that it is safe.
What Do Koreans Do At Picnics?
Getting together with friends at a picnic is the perfect opportunity for Koreans to catch up on the goings on of each other's lives. It offers them the chance to meet, chatter, bond and socialize in an outdoor setting with their closest buddies.
Picnics are a fantastic way for families and communities to get together too; just one of the much-loved traditions of Korean culture since ancient times. Not only does it give us a taste of nostalgia and community, but provides us with an experience that won't soon be forgotten.
You can see families flying kites and enjoy playing outdoor games such jegichagi and yutnori (both very traditional Korean games). If you would like to learn more about Korean games, check out my article that has a full list of all the fun Korean games you can play.
Others are more active and hike or cycle to a spot where they have their picnic. Families with small children take the opportunity to play with the children and have quality family time.
Are There Convenience Stores Near Picnic Sites In Korea?
The busier picnic sites have convenience stores near them for those not wishing to prepare their picnic at home. More rural or less popular parks may not have convenience stores.
You can find all sorts of delicious Korean style foods such as rice rolls, gaeran mari, ramyeon, and various foods that saves you time from the kitchen. Additionally, most Korean convenience stores also have microwaves, hot water, and chopsticks to help prepare your Korean picnic food dreams.
Wrapping up Korean Picnic Food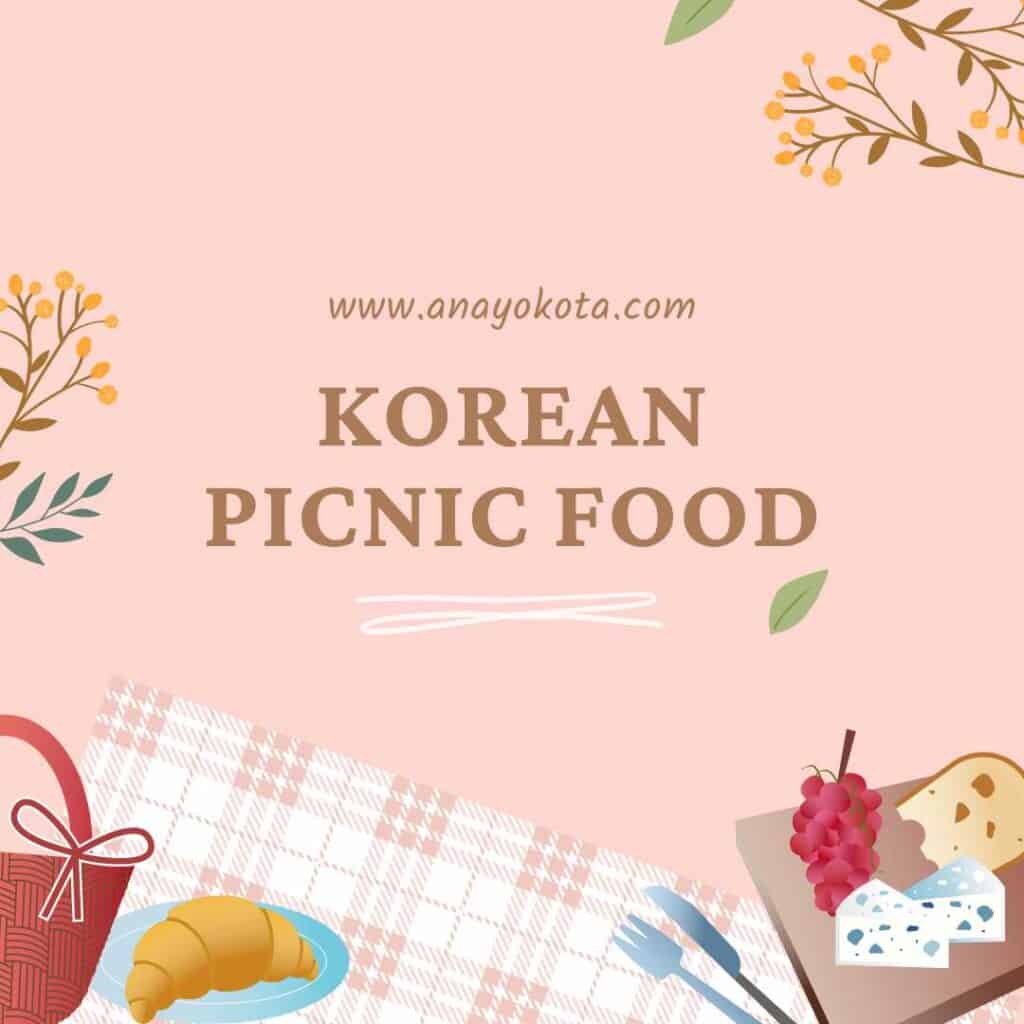 My family loves to make any excuse to enjoy quality time outdoors. When one of those reasons include Korean food, everyone is happy.
Get ready for a fantastic Korean picnic adventure! Unleash your inner chef as you discover scrumptious Korean dishes perfect for picnics on my site. From discovering the classics such as kimchi and fishcakes to the more modern twists such as triangle gimbap and yubuchobap, what is your favorite Korean picnic food?
Whipping up these easy-to-make treats will level up your picnic game, as you bask in the fresh air and feast on mouth-watering Korean picnic food delight. Remember, if you don't have time to cook in the kitchen, you can always stop by the Korean grocery or convenience store to pick up your favorite Korean picnic foods. Dive in now and let the journey begin!
If you would like to learn more about other asian picnic styles, check out this article about Japanese picnic foods. See how the Japanese celebrate the much loved tradition of eating outside together.
Or if you're looking at what you can do in Seoul at night, you'll be amazed at Korea's night life!