This post may contain affiliate links. Please read my disclosure policy for more info.
Keep reading to brighten your day with these funny Korean memes that will make you laugh.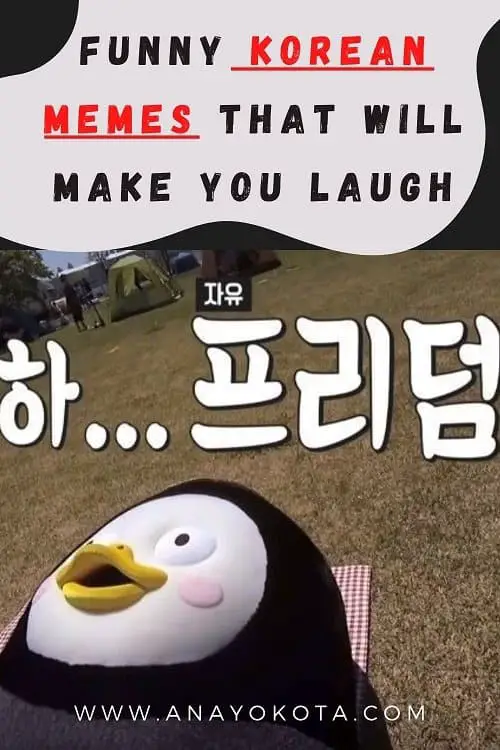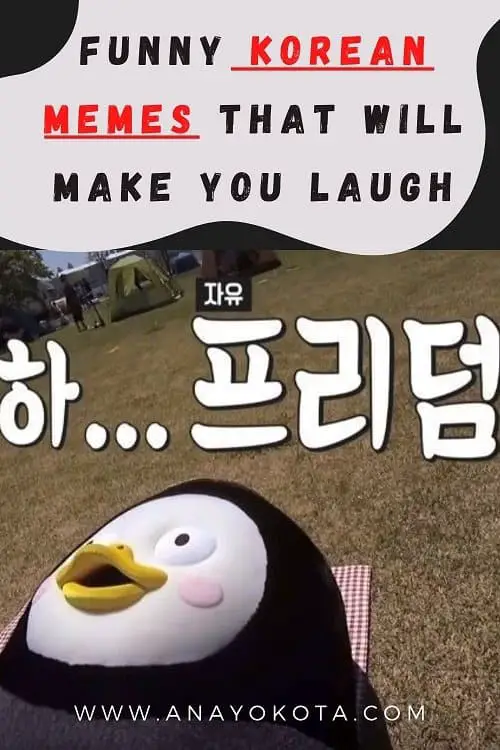 Are you a Korean Drama (K-Drama) or Korean pop music (K-Pop) fan? Join the club! You may take the girl out of Korea but you can't take the Korean out of the girl. Allow me to briefly share my Korean backstory.
Being a Korean-American, I am proud of my heritage both as an Eagle and a Tiger. Though (growing up) I had visited Korea many times, in order to embrace and educate myself even further, I chose to live in Korea twice in my life. Once when during high school and then a second time for a Korean entertainment company.
Living and working in Korea has changed my life on so many levels. For example, I learned so much about my heritage and the beauty behind the richness of Korea's culture. Also, I gained precious friendships that have helped me understand the uniqueness of Korea's traditions. Amongst many things, I also watched more Korean dramas than I ever knew was possible.
Granted, as a project and artist manager, it was my job to watch and listen to Korean media all the time. Despite the high demand of keeping up with trends and the stress of working long hours, it was an inadvertent blessing. Since I was immersed in the heart of Korean dramas and music entertainment, I learned so much about my culture in incredibly priceless and meaningful ways.
Through my years in Korea and simply loving the Korean culture, I have collected Korean memes in English and in Korean that are relatable and hilarious.
These Korean memes were discovered from friends and mostly on the internet (Korean memes Instagram for the win!). I am NOT the personal owner or the creator of these Korean memes.
If you want to check out more of my Korean inspired posts, I created a super easy Korean sushi roll recipe that is triangle shaped for those that are looking to discover more about the Korean culture.
TABLE OF CONTENTS
If you're interested in learning more about the Korean language, why not learn it K-Pop style? That's right! Woosung Kang published a Korean Language book titled, "The Kpop Dictionary"
KOREAN MEMES IN ENGLISH
I don't say why. I say WAEEE
Of all the utensils invented to eat rice, how did two sticks win?
I don't know what you're talking about
Loading… 60% ready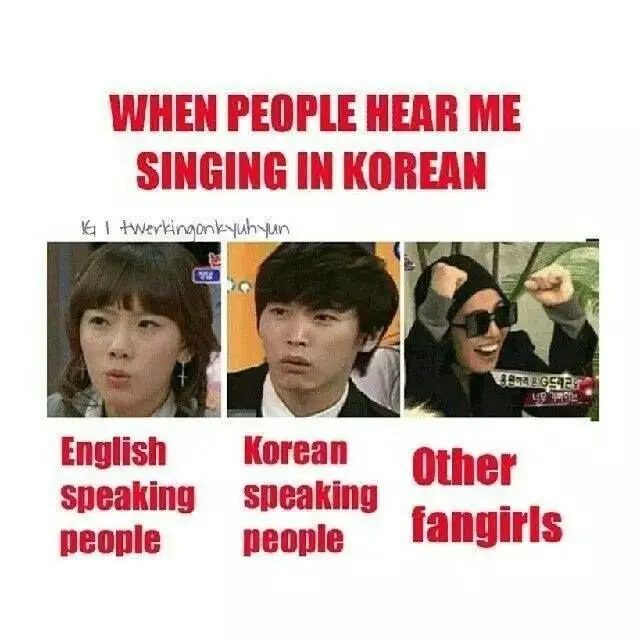 When people hear me singing in Korean. English speaking people. Korean speaking people. Other fangirls.
That moment when you're not sure if he's trying to seduce you or if it's just constipation.
Inspired by tamago (egg) nigiri?
Kris, draw me like one of your French girls.
Okay, hyung.
Beautiful.
Give me the chicken or die!!!
So this table consists of the 'Heirs' cast, right?
Yes!
Why don't you say something to your fellow cast members?
Hello, sister!
(IYKYK)
*Points*
My mommy site right over there!
V-sign
Thumbs up sign
……….?
What's up! We 2NE1~
Goodbye! We 2NE1~
Who loves K-Pop????
Hi.
I said HIIIIII~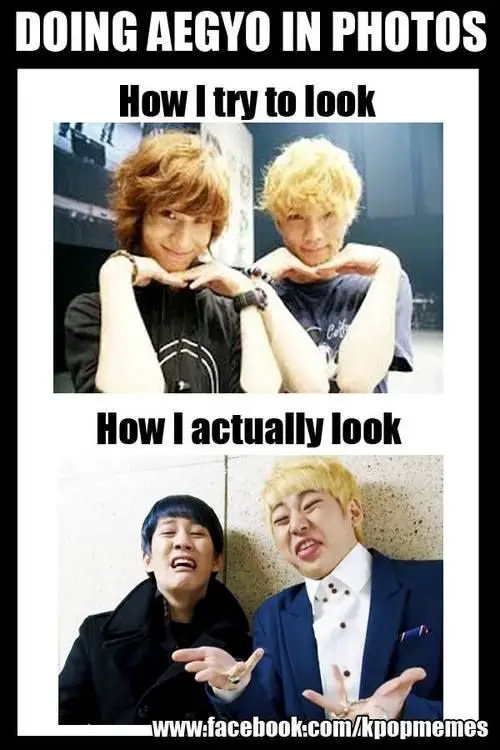 Doing aegyo in photos
How I try to look
How I actually look
Piggyback riding. Level: Teentop
When ur bias throw fly kisses
I got it
I got it!
I see no difference
I am The Visual!!!!!!
I thought listening to Kpop would be a small enjoyable hobby rather than an intense, emotional roller coaster of an addiction. I think I've made a tactical error.
KOREAN DRAMA MEMES
Self-control is saying, "No. That's enough episodes for tonight."
Me watching Kdramas
Confession scene
I like you.
I like you too…
When a non Kdrama fan asks you for a recommendation for her first Kdrama
Therefore, no matter what happens, I'm not responsible.
Just Lee Min Ho showed up with puppy dog eyes at your front door and asked:
Can I sleep here tonight?
Yes Yes you can!
You can sleep here forever too if you want.
Me patiently waiting for an English sub
[Lee Min Ho] is a big bully
Learned it from noona (older sister).
When you want to watch a K-drama but it says it's not available in your country
Mwo? ?(What?)
Wae?? (Why?)
Do I live in Narnia or what?
Coming out of my holiday Kdrama marathon
Is that what the sun looks like?
Oh….You don't like Kpop?
Delete from contacts
When it's 2AM and you're debating whether or not to watch another episode.
Kdramas should come with a warning label: Caution…Highly Addictive. May cause you to receive crazy looks from friends and family. Has been known to cause loss of sleep, good grades, normal work performance, and in extreme cases, all traces of social life.
That awkward Asian drama moment when…you have an older sister that's so badass, she beats you senseless on the streets with a long stick in broad daylight.
I understood that word! I'm basically fluent in Korean!
Thoughts everyone has while watching K-dramas.
The Hunger Games: The Korean Edition
KOREAN MEMES IN KOREAN
Selfie, real life, picture taken by someone else
What works?! Nothing seems to work!
Oh…. okay… Let me know when you feel better.
Why? Ignoring me?
The story of my life. Trying to be normal but if you look closely, epic fail.
Gosh, should I just slap him and go?
Because of some crazy person, I'm going to sit somewhere else in the library.
"I will take away your vision"
The currently incoming subway train!!!
Even if you run from here, you won't make it.
I tried already.
When my younger brother and I chat, we have so much to talk about. Of those things, I will talk about this first.
File name: "Older sister's head" –> (empty)
During my drive, I see strange people
Four people moving a table. LOL
However, the weakness is his extremely bored face.
Oof!
Humph!
Toot!
ahhh….Freedom.
---
I hope you enjoyed these Korean memes. Feel free to use them and post them on your virtual boards!
Which one were your favorites? As always, please share your thoughts below and let me know if you want more of these kinds of memes.