This post may contain affiliate links. Please read my disclosure policy for more info.
May these questions for married couples bring you laughter and heartwarming moments. Build your special memories with these marriage questions for couples today!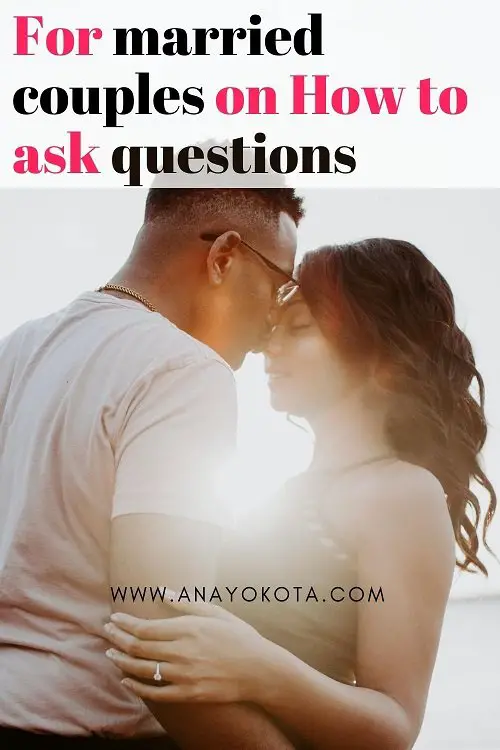 Marriage is a beautiful gift that requires communication, love, and effort. 
Though I love my husband whole-heartedly, I find myself falling more in love with him everyday than the day before. It is as if my heart grows supernaturally to make room for greater capacities of love. 
At times, it's overwhelming because I am overjoyed and humbled by how much I can love a person. It may be corny to say and could be hard to believe but it is unequivocally true. The reason? We ask questions — the right questions. Funny questions, interview questions, corny questions, deep questions, spiritual questions, and anything and everything in between. 
Questions are wonderful conversation starters for married couples — let alone people in general. A thoughtful and well intended question can disarm a person to open up and discover uncharted territories. Fun questions for married couples can spark a fresh romance during date night or simply make for a happy conversation. 
There are many studies around marriage communication and how it is essential for a successful marriage. It is not surprising to find that asking good questions can help generate better solutions when solving problems together. Rather than assuming things (which is fairly counterproductive in building a healthy marriage), cultivating a culture of asking questions can lead couples in discovering more about each other. As a result, both spouses are constantly in a healthy learning mindset (SOURCE). 
To clarify, the types of married questions I am referring to are not meant to focus on confrontational questions. I understand that fair questions are one of the healthiest ways to help navigate and mediate an argument (a subject for another post). I simply wanted to highlight on the fun and inspiring questions couples can ask each other be it during date night or a walk in the park.  
TABLE OF CONTENTS
ROMANTIC QUESTIONS FOR MARRIED COUPLES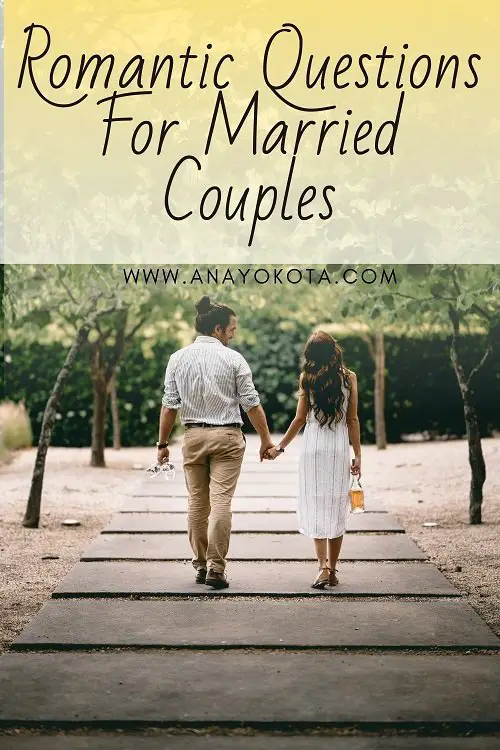 Kick off date night with your special partner with a few romantic questions. Whether you go out for dinner or stay in, spice up the night with these questions for an epic date idea. 
Sometimes, talking about romance can be very vulnerable — especially when it comes to talking about sex. Don't let the fear of rejection stop you. Overcome those fears by being open and kind to one another's vulnerabilities. Make it fun as you learn about each other – even in bed. 
Is there anything you would like to try in bed? 
How can we protect and foster our sex life in a healthy way? 
What is a romantic move (or saying) you enjoy most? 
What is your favorite sexual memory of us? 
Would you rather make love in the middle of the ocean or in outer space (zero gravity) with nothing around you? (assuming you wouldn't die) 
What would I have to do to dare you to do something sexy in public? 
What is your favorite thing that I do for you?
When do you feel the most sexy? 
What is the most attractive feature about me? 
What body part do you like most being massaged? 
Would you rather have date night on a private beach or a cabin in a tropical forest? 
QUESTIONS TO ASK A COUPLE MARRIED 50 YEARS
Who better to ask married couple questions than someone who's experienced it for 50 years? Although 50 is what I titled this section, but honestly, you can always learn a thing or two from another marriage that has been in it. 
What is one advice you wish you didn't listen to? 
What is an advice you wish people would stop sharing? 
If you could put any message (or picture) on a billboard where millions of couples would see, what would it say (or be)? 
What is the best investment you purchased to help your marriage? 
If you could share your marriage life's motto, what would it be? 
What is a marriage advice you would like to give to a newlywed? 
What is the most healthy and effective way to mediate and navigate around a strong disagreement? 
What part of your marriage do you pride yourself most about?
How did you know that your spouse was the one for you?
QUESTIONNAIRE FOR MARRIED COUPLES – NEWLYWEDS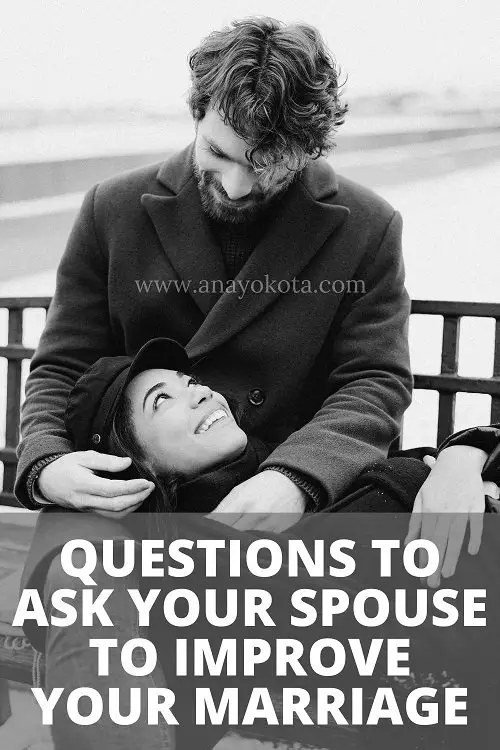 Think about how you will spend the rest of your beautiful lives together. Start dreaming big now and planning together for the best marriage ever. When you plan together, you can motivate and be there for each other. This is your "partner in crime" and one that will hold you even through the darkest moments. Remember to always make time for date night as you use these discussion questions for married couples.
What are your love languages in order for receiving and giving? 
How do you like your morning coffee or tea? 
What physical feature would you like to pass on to our children? 
What was your favorite date that we went on before we got married?
What charity organization should we give together this year? Why? 
What is a new hobby we can try together as a married couple? 
What does the perfect date look like? 
What is a 100 year legacy you would like to leave? 
Do I have bad breath? 
When do you want to retire and what is the first thing you want to do? 
TRIVIA QUESTIONS FOR MARRIED COUPLES TO ASK EACH OTHER
Ask these questions for a married couple to make a fun night with each other. Have you wondered if your partner knows the random details about your life? It's easy to tell each other that you love each other. Remind each other all the fun and love you have together with a fun night of trivia. 
What is my ideal dream vacation? 
Who is my favorite childhood cartoon character (or show)?
What was I wearing on our first date? 
What is my favorite dish that you make?
If I won the lottery, who would be the first person I would spend money on? 
What is my favorite Marvel Avenger? 
What is my favorite family tradition? 
What is my life's motto?
What is my phone's passcode? 
What is my favorite ice cream flavor? 
What feature do I like about you most? 
QUESTIONS TO ASK YOUR SPOUSE TO IMPROVE YOUR MARRIAGE
By asking good thoughtful questions to your partner, you are inviting the opportunity to be taught and learn from the other person. Questions to ask married couples is a fantastic way to work on concerns and dreams together. 
What do you look forward to most this season? 
What are the top 5 things we should never let go? (e.g.: never let go of our physical health)
What spending habits would you like to improve on together? 
Are there any constructive criticisms for how we handle arguments or disagreements? 
How can we spend more quality time together? 
What is one thing that we can learn together? 
What are some areas you would like to help me improve as your partner? 
Is there a nighttime or morning routine we can improve on together? 
What do you think is the key to a successful marriage? 
In what areas can we improve in our relationship with others as a couple? 
What is a dream that you are afraid to complete on your own? 
FUN QUESTIONS FOR GAME NIGHT
Use these fun questions for married couples game to ask couples about their relationship. You can change up the order and make it like interview questions for married couples.
What is your spouse' favorite childhood television show? 
Where was your first kiss with your spouse? 
Where was your first date with your spouse? 
What are your spouse' top 2 love languages? 
If your spouse was stranded on a deserted island and can only take 3 food items, what would they be? 
What is your spouse' favorite vacation you've been on together? 
Who is your spouse's celebrity crush? 
What is your spouse' favorite childhood movie? 
What is your spouse' favorite color? 
What is your spouse' favorite feature about you? 
What is your favorite feature on your spouse? 
---
Never stop that curious spark with your love. Build your marriage goals and shower each other with marriage sayings to keep that love alive.
Are there other types of questions for married couples you would like to know more? Do you have a good question for married couples? Sharing is caring — please share them below in the comment section.