This post may contain affiliate links. Please read my disclosure policy for more info.
If you're searching for the best gifts for k-pop fans, you're probably aware that you're not dealing with someone who just wants a poster for their wall.
K-pop stans (obsessive fans) are fiercely devoted and yearn for any item with their beloved idol emblazoned on it.
Your hardest job – after finding out their favorite group – is choosing from the vast array of merchandise.
No matter whether a person is close to your heart or merely an acquaintance, if they're a K-Pop fan, you can be certain that they'd love a gift inspired by their favorite tunes and quintessential Korean eye catchers.
It always makes me giggle when I find good gifts for my kpop loving friends.
Check out these funky gifts perfect for the enthusiast in your life!
Korean music has become increasingly popular over the last couple of years and it continues to ascend in recognition all around the globe.
From addictive beats to iconic artists such as BTS or Twice – one only needs to mention those two vibrant names for K-Pop fans skipping to their next purchase.
And those with plentiful love for these stars deserve some higher level reward – which makes kpop inspired gifts for her even more thoughtful gesture that expresses how much their interests and passions mean to you!
The Top Gifts For K-Pop Fans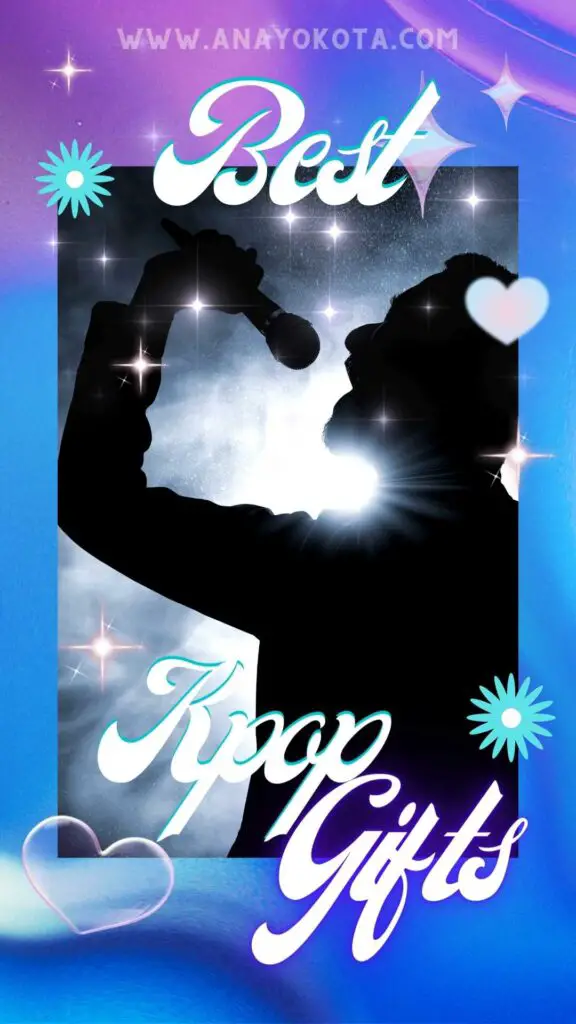 This is a list of the most sought-after items on any K-pop fan's list. Some of these are pricey, so be willing to spend a lot to delight your superfan.
Concert Tickets – Best Gifts for Kpop Fans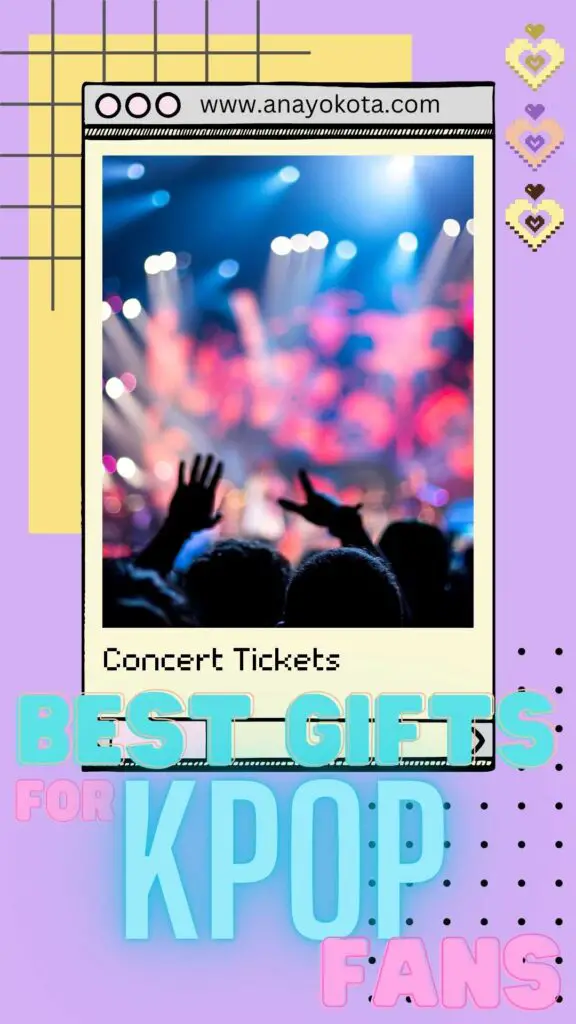 The ultimate gift to any K-pop fan is a ticket to a concert, where they can see their favorite group in action.
This is a great experience gift for those outdoor gift ideas!
Look out for K-pop bands' international tours so that you can snap up tickets immediately.
This can be an amazing experience gift for teens for their first concert experience.
When I was a little teen, I was able to go to my first concert.
It was Switch Foot. Granted it wasn't K-pop but it opened my eyes to the music scene and helped me dive into Korean music.
Clear Bag
If you've invested in BTS tickets, throw in a clear venue-approved bag. You can get stylish crossbody or clutch purses and larger tote bags.
Snag a handbag designed by their group. Put in some cash since merchandise will be sold at the concert.
These are also great kpop Christmas gifts during those holiday concerts.
Also, many concerts and large events that I've attended did not allow bags unless they were in a clear container bag (like a clear tote bag).
Concert DVD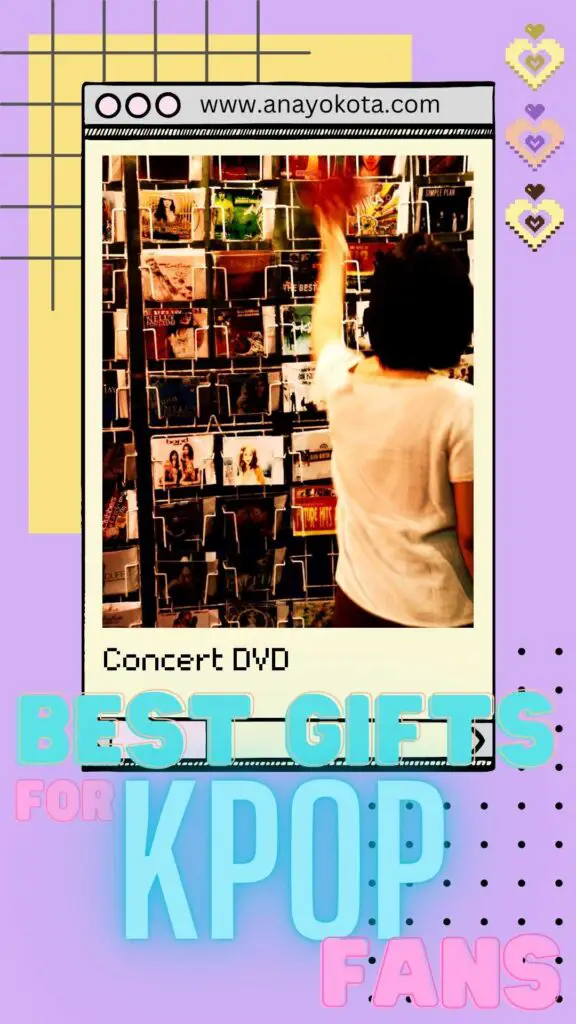 If tickets are beyond your budget, bring the concert to the fan with a concert DVD.
As a kpop fan, collecting concert DVD's is beyond just streaming it; it's supporting the artist too.
Albums And Box Sets
Fans of other music genres might wonder why albums are so far down the list.
It's because K-pop fans aren't only there for the music. An album or box set doesn't only contain CDs.
The recipient will be excited about the CD but will also dig out the add-ons, like limited edition photocards, photo books, stickers, polaroids, and posters.
The band's newest album will be the obvious choice, but classic albums and re-releases are also great ideas.
Branded Light Sticks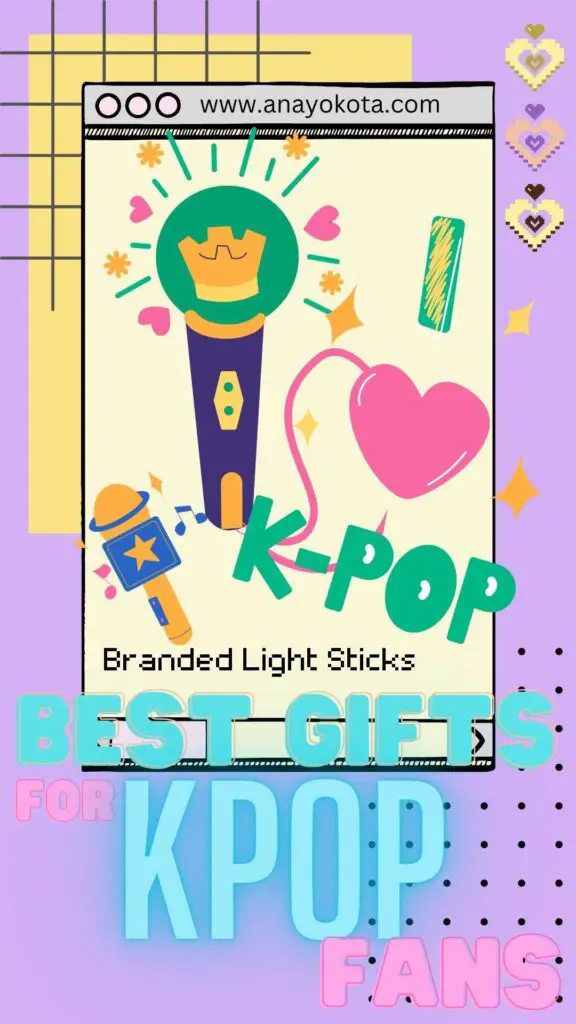 Even if a K-pop stan isn't attending a concert where these light sticks are waved in adoration, a light stick are great gift ideas for kpop fans.
Light sticks are unique to the K-pop subculture; each group has a unique light stick with its own style.
These branded items are highly collectible.
These are so fun because you'll see all the Koreans cheering on their favorite stars shouting the infamous "hwaiting" to encourage their day.
Season's Greetings Kit
K-pop bands release a Season's Greetings Kit every year just in time for Christmas.
These branded gift boxes include a variety of small gifts, for example, a journal or diary, a calendar for the coming year, a desk planner, photo cards, video DVDs, notepads, greeting cards, and posters.
Each year's kit features the group in a new outfit relating to a theme, like retro or camping.
Season's Greetings kits sell out very quickly. If you can get your hands on these kpop gifts, it's surely a win.
Kpop Photo cards
Photo cards are more budget-friendly gift ideas for kpop lovers and are incredibly popular.
K-pop fans collect and trade these cards, looking for limited and gold editions.
You can purchase packs of cards or single ones (look for the bias or fan's favorite group member).
Figurines
The most popular figurines are Funko Pops.
Buy individual group members (you'll need to know your fan's favorite or bias) or the whole group.
Standees or cut-out figurines that can stand on a desk or nightstand are also popular.
You can find these kpop gifts on amazon as well.
Merch Kpop Gift Ideas
K-pop fans are obsessed with anything related to their favorite group, so merchandise is a welcome Kpop inspired gift.
Wallow in the superb range of official merchandise but also look a little further.
K-pop fans design and sell their own merch; you'll find items relating to every group and group member possible.
Merch also displays images relating to the K-pop subculture, like cute hearts, if the fan wants something more subtle.
K-pop merchandise includes the following:
Tech Accessories Kpop Fan Gifts
Merch like laptop sleeves and phone covers are perfect ways for K-pop fans to display their devotion to Blackpink (insert your stan's favorite group here).
Kpop Gifts Stationery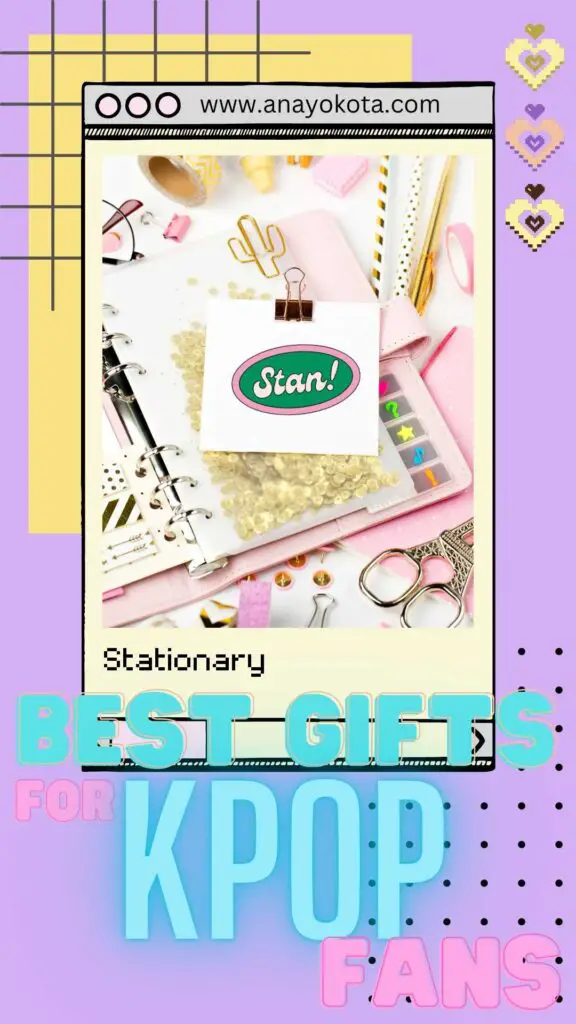 Any school-going K-pop fan can fill a branded backpack with notebooks, pencils, files, folders, sticky notes, and clipboards.
I have a friend that loves BTS and stationary studded with the fab Seven are great stocking stuffers and Christmas gift ideas for kpop lovers.
Plushies Kpop Inspired
These teddy-bear-like plushies are caricatures, often designed by the K-pop idols themselves.
Idols gift their fans free videos on YouTube featuring the animated adventures of these creatures, most of which are cute animals.
Many folks will custom order these plushies making them the best birthday gifts for kpop fans.
Clothes as Kpop Gifts For Friends
Kpop Clothing is a huge trend all around the world as more and more Korean idols take the top of music charts.
You can help your friend dress like a kpop idol, too!
Caps, beanies, scarves, T-shirts, sweatshirts, and hoodies are all available, with variations featuring each group, idol, album, and design.
Fans will enjoy branded gear but also like wearing items worn by their heroes, such as the donut hoodie worn by BOTB's Ihoon.
Cheap Best Gifts For K-Pop Fans
You don't have to blow your budget to please a K-pop fan. There are many cheap gifts for Kpop fans.
Photocard Folder
Fans who collect photocards need somewhere to store and display them.
These folders protect the cards, especially if the fan is a serious collector and trader.
Choose a branded folder or simply an appealing, colorful, or glittery number that can be decorated.
Kpop Gifts Stickers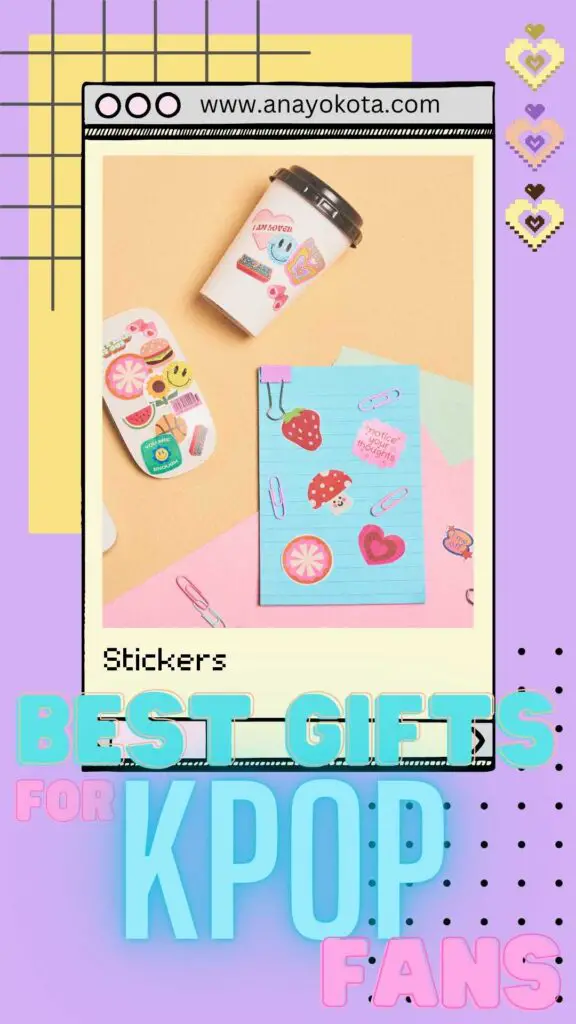 Who doesn't love stickers?
Even as an adult, I still like collecting stickers. So, it would make sense that K-pop fans enjoy collecting stickers of their idols.
They also like decorating other items with stickers and washi tape, so a selection of stickers is always welcome.
If you're open to spending a few more dollars, I recommend customizing stickers – these are hit kpop birthday gifts.
Clear Phone Case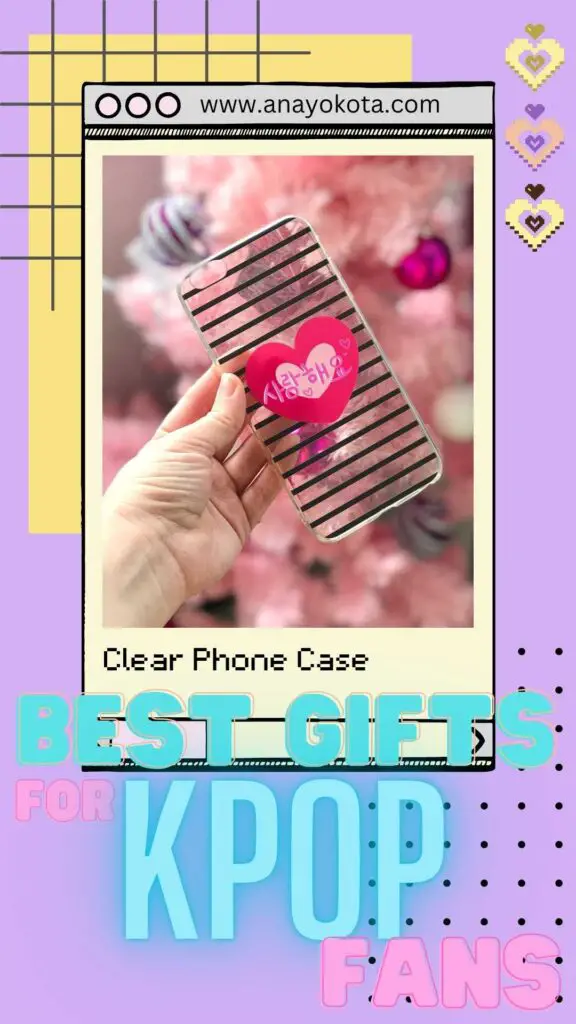 If a branded phone case is too pricey, gift a clear one.
This case can be customized by the fan or used to display a photo card behind the phone.
Grab a few fun kpop stickers and DIY a custom case for a friend's birthday.
Pins
Enamel pins are the ideal stocking stuffer or personal gift that K-pop fans love wearing to send subtle messages to other fans.
They can show their allegiance to an idol or display a K-pop meme.
A favorite pin is a miniature glow-in-the-dark light stick that you can attach to your jacket to keep that concert feeling alive.
Playing Cards
Apart from the photo cards, many idols have released themed playing cards.
For example, you can buy BTS Uno or customizable decks of cards.
Fun fact: my nephew has the BTS Uno and it is actually super fun! I secretly wanted one and justify to my husband that these are Korean culture gifts. Wink.
K-Pop Gifts For Friends
Are you a stan yourself, choosing a gift for your K-pop bestie?
These are cute and personal gifts to show you understand and share their devotion.
Do You Know Me? BTS Edition
Even if BTS isn't your favorite group, serious fans will know all about the biggest K-pop sensation.
This card game tests your knowledge of BTS trivia and will give you and your friend hours of fun. I'm sure it will be the best Christmas gift for kpop fans alike.
Pillow And Blanket
When your friend is dreaming of her bias, give her a cuddly pillow with their face on it and a snuggly blanket covered in a K-pop collage.
The blankets come in multiple sizes and a variety of designs; especially if these are personalized.
Personalized Necklace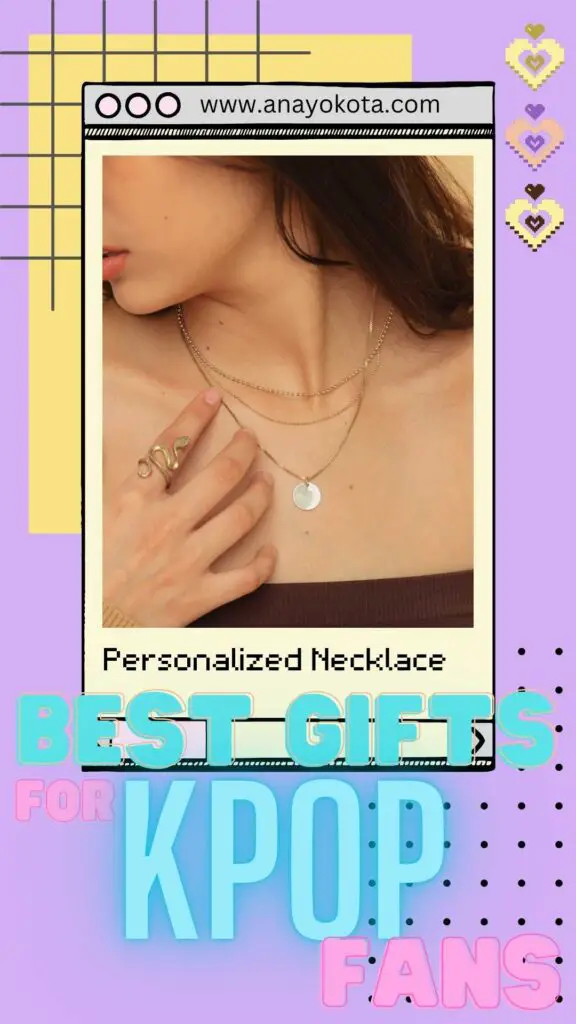 Order your friend a necklace with their name and their bias's intertwined – in Korean characters.
Many instances, I've given customized Korean birthday gifts (to non-kpop fans) and every time, my friends just love and appreciate the thoughtfulness behind cute custom jewelry.
Fan Art
K-pop fans produce and sell beautiful fan art, ranging from watercolor paintings to pencil drawings.
There are also inspirational quotes about the K-pop culture to lift your friend's spirits.
Buy your friend a couple of prints for their wall. Or, if you're feeling artsy and creative, try creating a one of a kind art piece. Who knows?
It can become the next Mona Lisa.
Mug And Coasters
These are good gifts for kpop fans! An extra mug is always handy, so gift your friend a branded mug and coaster set. Y
ou can find great sets illustrating album covers or photos of groups in different outfits.
Canvas Tote Bag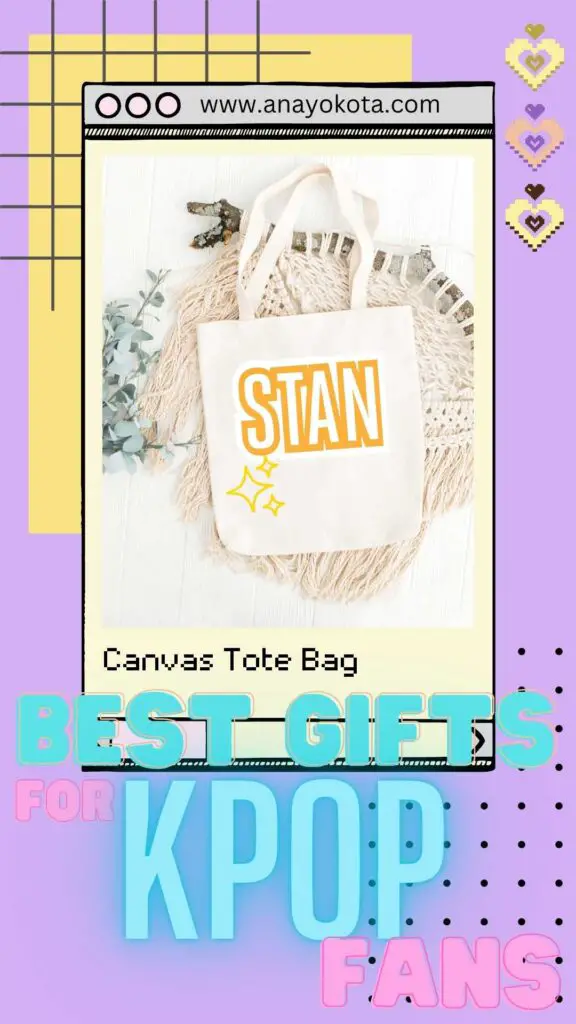 Tuck the gifts into a customized tote bag instead of a gift bag or even use it as a grocery bag – recycling is an environmentally friendly trend.
Much like many places in the States, it's normal to bring your own grocery bags to the store.
Non-branded Best Gifts For K-pop Fans
Read on if you have to buy a gift for a K-pop fan but don't know their favorite group, idol, or interest.
These gifts are sure to please, even though they aren't directly K-pop related.
CD Player
Many of us listen to music via our phones, so a CD player is handy for K-pop fans to listen to the albums they collect.
Find a CD player designed for K-pop albums, which has the dual function of playing and displaying the CD.
Smartphone Printer
K-pop fans can download and print photo cards, so a mini printer is a practical gift.
Home-printed cards aren't tradeable or collectible but will please fans who want to pore over their heroes.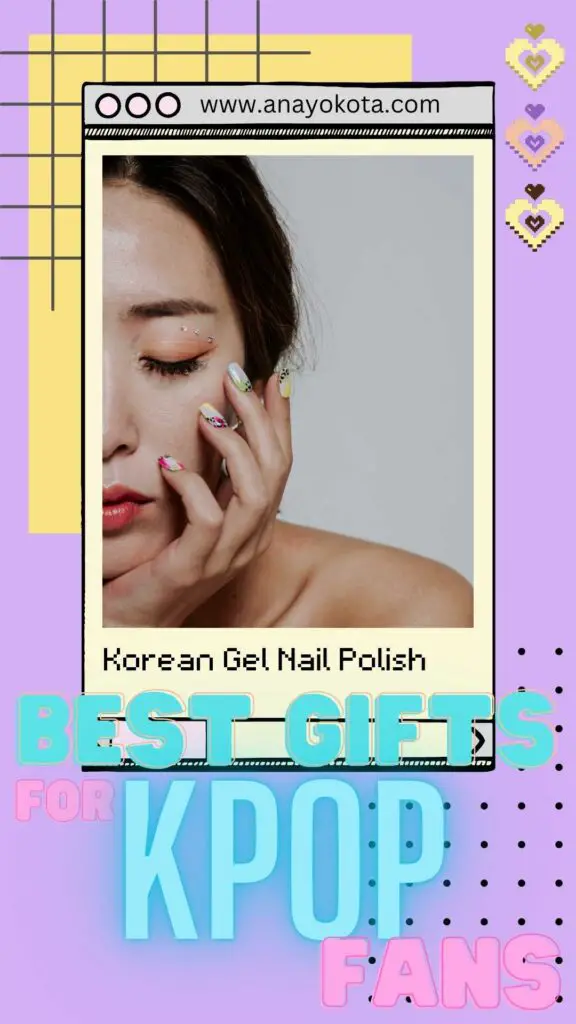 I've actually seen a collection of BTS gel nail polish.
Regardless if you purchase these specific polish bottles or go for other K-nail products, these are great gift options for those who enjoy doing their own nails.
They can paint on their favorite kpop idols and show off their glammed nails to everyone.
Subscriptions
Chances are a K-pop fan will also love K-dramas, so a Viki or Dramafever subscription would be a creative and fun gift.
Some idols appear in these dramas, such as Suzy from Miss A, who appears in Uncontrollably Fond.
With streaming service accessible globally, it's such a breeze purchasing gifts for kpop lovers.
Can You Give Gifts To K-Pop Idols?
Most K-pop idols will accept gifts from fans.
You can send a gift to your favorite idol through the group's agency, at a venue where they're performing, through a fan club, or via the artist's coffee shop or business.
While idols are grateful for gifts that fans send, they are not always allowed to keep them for health and safety reasons.
Idols treasure small, personal gifts the most, such as handwritten letters.
Other good gifts for Kpop idols are the ones that costs nothing – social media shout outs.
Spread the love by celebrating your favorite kpop idol on the net where everyone can see their amazing talent.
Conclusion: the Best Gifts for K-pop Fans
K-pop fans welcome any gifts relating to their favorite group, from concert tickets and albums to photo cards and plushies.
Gifts do not have to be expensive, so long as they are K-pop associated and from the heart.
What are your favorite gifts for a kpop fan? Is there one not listed but you would like to share?
Please let me know in the comments below!